Digital Shrink Sleeve Printing Services
Digital Printing Services
The secret behind the success of our company lies in digital printing services, including our digital shrink sleeve printing services. Traco's digital print services offer the advantage in labels and packaging with shorter run lengths and unmatched print quality. With Traco's digital print services your project can vary from ten impressions to thousands with quality that exceeds rotogravure printing. Whether your company is looking for printing services for shrink sleeves, pressure-sensitive labels, flow wrap film, or pouch film, Traco's digital printing services will produce quality labels that will make your product stand out.
Pioneered Digital Printing on Shrink Sleeves
Traco Packaging recently became the first company in North America to install an HP Indigo Press dedicated to shrink sleeve production. The new printing machine installation gave Traco the ability to increase production of high-quality printed shrink wrap sleeve products with a fast turnaround time and many customization options. Prior to this installation, Traco offered printed shrink sleeves and film produced overseas using rotogravure printing technology. Traco installed the HP Indigo Press to meet increased customer demand for faster turnaround times, customized text and images, and shorter run lengths.
Traco now has multiple HP Indigo 6900 digital presses which helps us streamline shrink sleeve printing services by eliminating the high cost of cylinder plates and airfreight. Offering the high-quality output and service our customers demand, most art approved jobs are ready to ship in as little as four (4) days.
The HP Indigo 6900 Digital Press
Our digital printing presses can create labels with hi-fidelity color. Depending on the requirements of your product packaging you can choose between our 4-color CMYK process, or our extended gamut 6-color process (CMYKOV). Whichever process you choose, you can expect we will print your packaging with the highest quality available. Pantone PMS spot colors, opaque white, silver metallic, specialty UV invisible security inks, and fluorescents are also available to create beautiful, eye-catching effects. With our quality service to back it, our digital shrink sleeve printing services make Traco an industry leader in printed packaging. If your company is looking to improve the image of your product and make it stand out on the shelf, our digital printing services provide the perfect solution.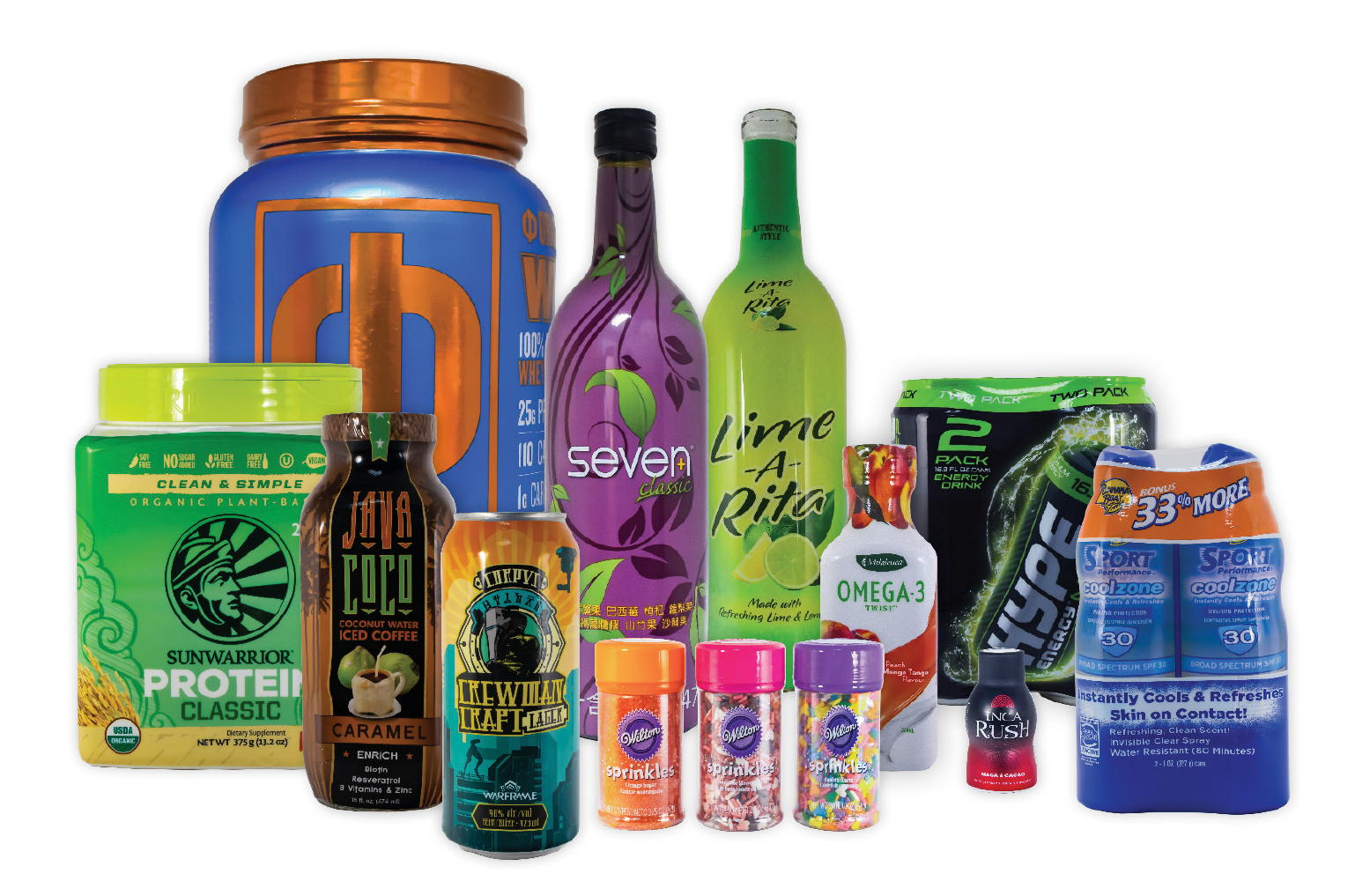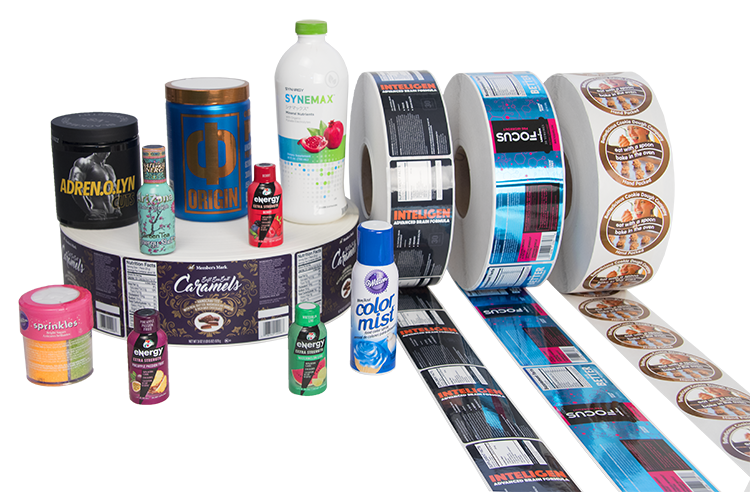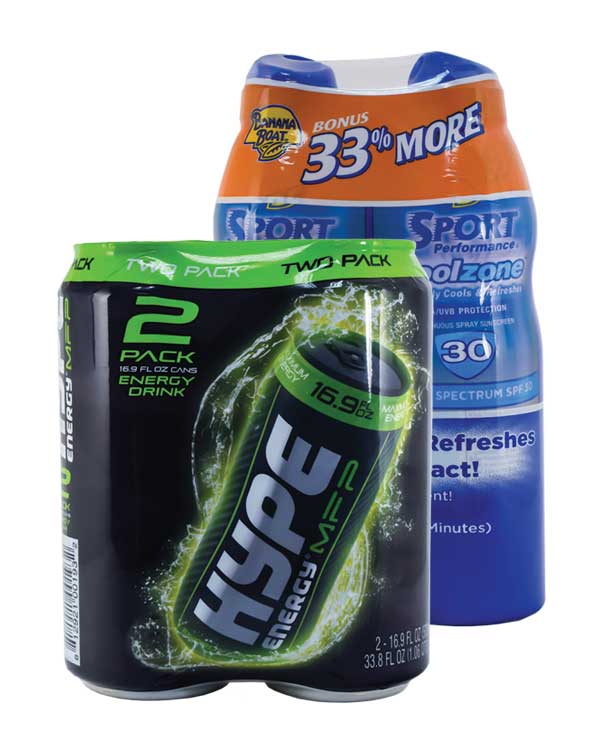 PVC, PET, BOPP, OPS, Foils, Pouch Films
Sleeve Layflats: 20 – 154mm
Flat sizes up to 12.5″ wide
Repeats up to 17.5″
Roll Stock, Cutbands, Vertical Perf, T-Perfs, Pull Tabs
Sleeve Seaming, UV Coating, Flexo Effect Printing, Slitting, Die Cutting, Over-Laminating,  Corona Treatment
Cold Foil, Matte, Adhesive
MORE INFORMATION (PDF pages)
Traco Packaging is a leading U.S. printer, manufacturer, and importer of shrink films, machines, and packaging equipment. For the past 34 years our company has provided customers with packaging supplies of all varieties. Just a few of the packaging products our company offers are:
Cut Shrink Bands
Shrink Sleeves
Preform Shrink Bands
PVC, PETG, and OPS Shrink Sleeves
Printed Shrink Sleeve Labels
Shrink Wrap Bags, custom and dome
Shrink Wrap Bags, stock (boxed)
PVC Shrink Films
Polyolefin Shrink Films
All manufacturers of consumable products have a mandate to do everything in their power to assure consumers that they are buying safe, tamper proof, or tamper-evident products. One of the most efficient ways to provide this assurance is by sealing lids and caps with a tamper shrink seal or band. We convert tamper-evident shrink seals or bands from plastic tubing to exact customer specifications. Just a few obvious advantages to packaging with tamper evident shrink bands are:
Cost effectiveness
Secure seals
Tamper-evident/Proof
Professional appearance
Try a sample to ensure exact fit—no surprises! Enjoy the largest selection of sizes in the industry coupled with quick response time for custom runs, rush orders, or just-in-time deliveries.
Custom manufactured to meet the most stringent customer specifications. Tolerances meet or exceed all industry standards.
All sizes, gauges & colors; in clear, opaque & tinted
Order in stock prints or request custom printing
Specify pull tabs, vertical & horizontal perforations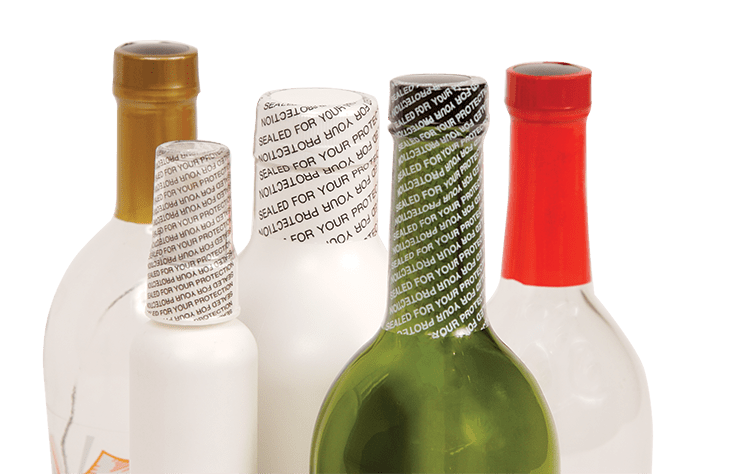 Cost Effective Tamper Evident Packaging
When tamper proofing containers with caps, lids and other closures, a tamper-evident shrink band is the most cost-effective choice available. Employees can easily train to apply a tamper-evident packaging band, saving the manufacturer time and money. Companies around the world use tamper-evident shrink bands to both save money and provide consumers with the assurance of a clean, professional, tamper-proof seal.
Product Security and Safety
Aside from the cost-effective benefits of tamper evident bands, they also provide the advantage of a secure and professional looking seal on the container. Tamper proof shrink bands are an important component in the packaging process of any product to assure consumers safety and security upon making a purchase. Tamper-evident seals protect products from leaks and spills. Importantly, protecting products with secure seals is one of the main reasons why suppliers around the world choose tamper-evident bands to meet their packaging needs.
When purchasing products consumers look for the assurance of a safe and secure quality product, packaging appearance is their first impression. To meet stringent consumer safety guidelines, manufacturers usually include a product guarantee on the packaging, but in order to protect themselves, manufacturers take it a step further by sealing their products with a tamper-evident seal. This way, when a consumer purchases their product and the tamper-evident band is intact, manufacturers know that the product is protected in every possible way. Above all, consumers can rest assured that the product guarantee will compensate for any product issues over safety and security.
In addition to their low cost, strong seals, and tamper-evidence, a tamper evident shrink band can provide a quality packaging seal without interfering with a clean, professional, product appearance. Additionally, these packaging bands are also easily removed so the consumer doesn't have to fight with pocket knives or scissors to access the product. When image is everything in the marketing world, tamper-evident packaging that is both attractive and efficient is the smartest choice for manufacturers.
MORE INFORMATION (PDF pages)
You can use preforms on practically any type of container or bottle. Preforms are converted from plastic tubing and partially shaped or "pre-formed" to custom fit your bottle or container. Preforms secure caps, lids and closures with easily recognized tamper-evidence on tapering containers. Since we design preforms to fit your bottle or container, application is fast and simple. Traco preform plastic tubing is great for dairy, deli, and thermoformed containers.
Try a sample to ensure exact fit—no surprises! Enjoy the largest selection of sizes in the industry coupled with quick response time for custom runs, rush orders, or just-in-time deliveries.
Custom manufactured to meet the most stringent customer specifications. Tolerances meet or exceed all industry standards.
All sizes, gauges & colors; in clear, opaque & tinted
Order in stock prints or request custom printing
Specify pull tabs, vertical & horizontal perforations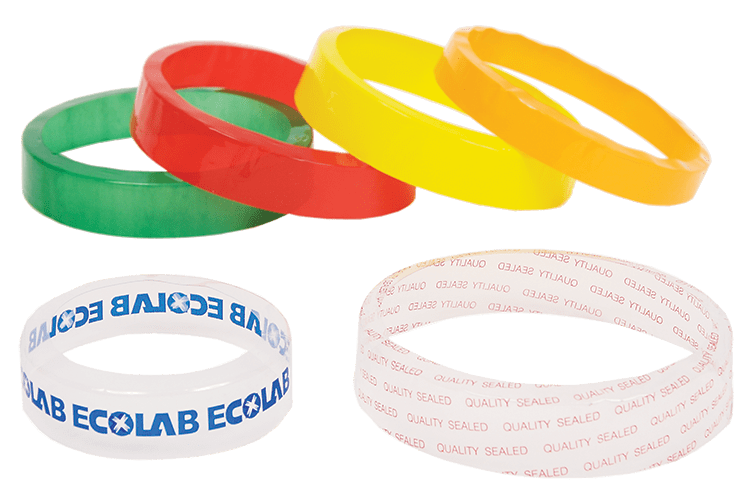 Also known as: shrink bands, custom bands, tamper evident bands, tamper-evident seals, safety seals, cap bands, cap seals, clear bands, seamless bands.
We carry various types of stock perform bands including PVC clear bands, colored bands and pre-printed bands. Do you want to have your company stand out from the rest? You can rise above the competition with custom printed preform bands. Choose words, colors or logos to build brand identity and show the safety of your products.
Preform bands are shrink sleeve bands placed over packages to seal and provide tamper evidence for your products. They are preformed to fit your products and can be used to provide a secure seal for many shapes of containers and tubs. Common items on which you can use SuperShrink® preforms:
Dairy products—Use plastic preforms on milk bottles, creamers, yogurt, cottage cheese lids, etc.
Fresh food products—Seals lids on containers and trays providing a safety seal and tamper proofing for fruits, salads and vegetables, etc.
Juices and beverages—Preform bands can seal the lid or cap. This makes it safe and tamper evident to comply with FDA and Homeland Security regulations.
Thermoformed containers—Seal lids on thermoformed containers with shrink wrap plastic preforms for easier manufacturing, distribution and display.
Protect your Products with Plastic and Bottle Preforms
Traco Packaging experts will verify what sizes you will need to fit your unique packages. We will then recommend stock sizes or custom sizes. Stock sizes and print designs have the shortest lead times and can be delivered to meet your tight deadlines. Every order is competitively priced and made from the highest quality materials. Contact us today and let us help you decide what product will be right for your application.
MORE INFORMATION (PDF pages)
Shrink Sleeves are quickly becoming one of the leading packaging options for brand managers, contract packagers, and private label managers. Seamless full body shrink sleeves conform to the shape of a package, provide 360-degree product decoration, and can provide unmatched durability and tamper proof evidence.
We see shrink Sleeve packaging everywhere today. You'll find them on full body sleeve energy drinks, dairy products, cleaning products, fruit juices, and cosmetics and in almost every other category at your local store.
Shrink sleeves are available in many varieties and are designed for multiple functions. These include:
Seamless Full Body Sleeves (Printed and Clear)
Tamper Evident Shrink Bands (Printed and Clear)
Multipack & Club-pack Sleeves (Printed and Clear)
Shrink Sleeve Prototypes and Mockups
Advantages of Shrink Sleeve Packaging
Huge Display Area: With seamless full body shrink sleeve packaging, you can decorate almost the entire surface area of your product, your artwork in 360 degrees. No longer limited to just using the flat surfaces of your container, you can cover the contoured areas of your product with eye-catching graphics.
Durability and Protection: Shrink sleeve packaging is reverse-printed, so your branding and message are always protected from the elements. They are inherently fade resistant and protect from scuffing and shipping damage. Your products always look their best when covered by seamless full body shrink sleeve packaging.
Tamper-Evident Protection: With the addition of a perforation, shrink sleeves provide the consumer with confidence. Seamless full body shrink sleeve packaging can extend over the cap of your product to provide total tamper evidence right at the point-of-sale.
Price: We manufacture shrink sleeves from very thin PVC or PETG film, so they are an economical option for product decoration. In many cases a single seamless full body shrink sleeve can perform the functions of multiple labels and seals. This can reduce the number of steps required in the production of your product and get your product on the shelf faster.
Custom Fits Your Product: Seamless Shrink Sleeve packaging is custom manufactured to fit your product and will shrink to fit the body of your containers. Your product will look great from top-to-bottom with our shrink sleeve printing services.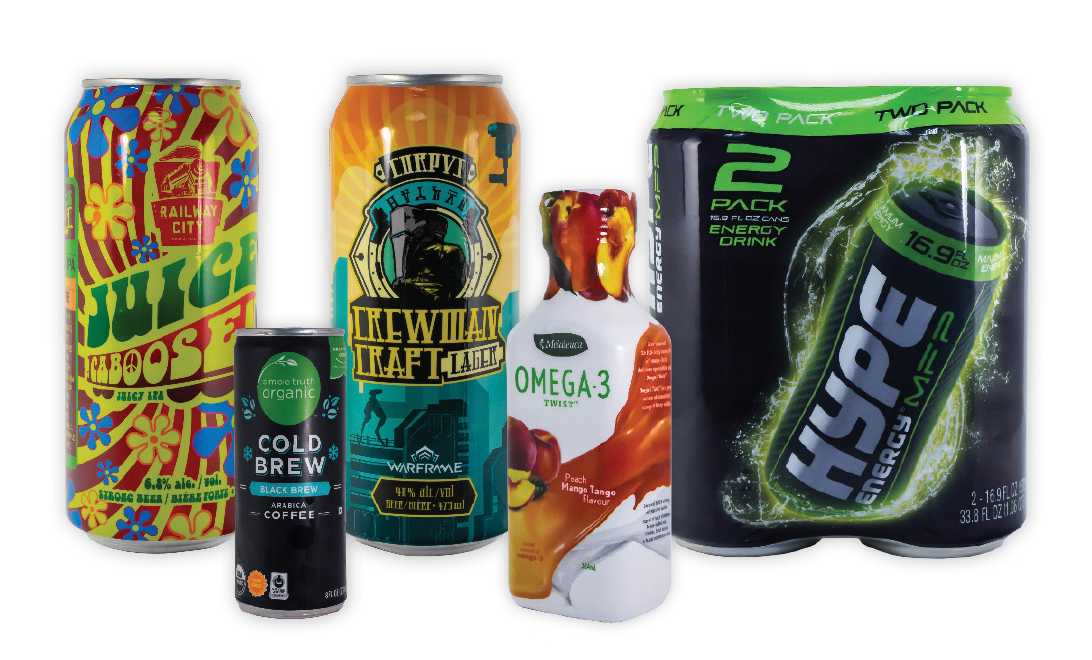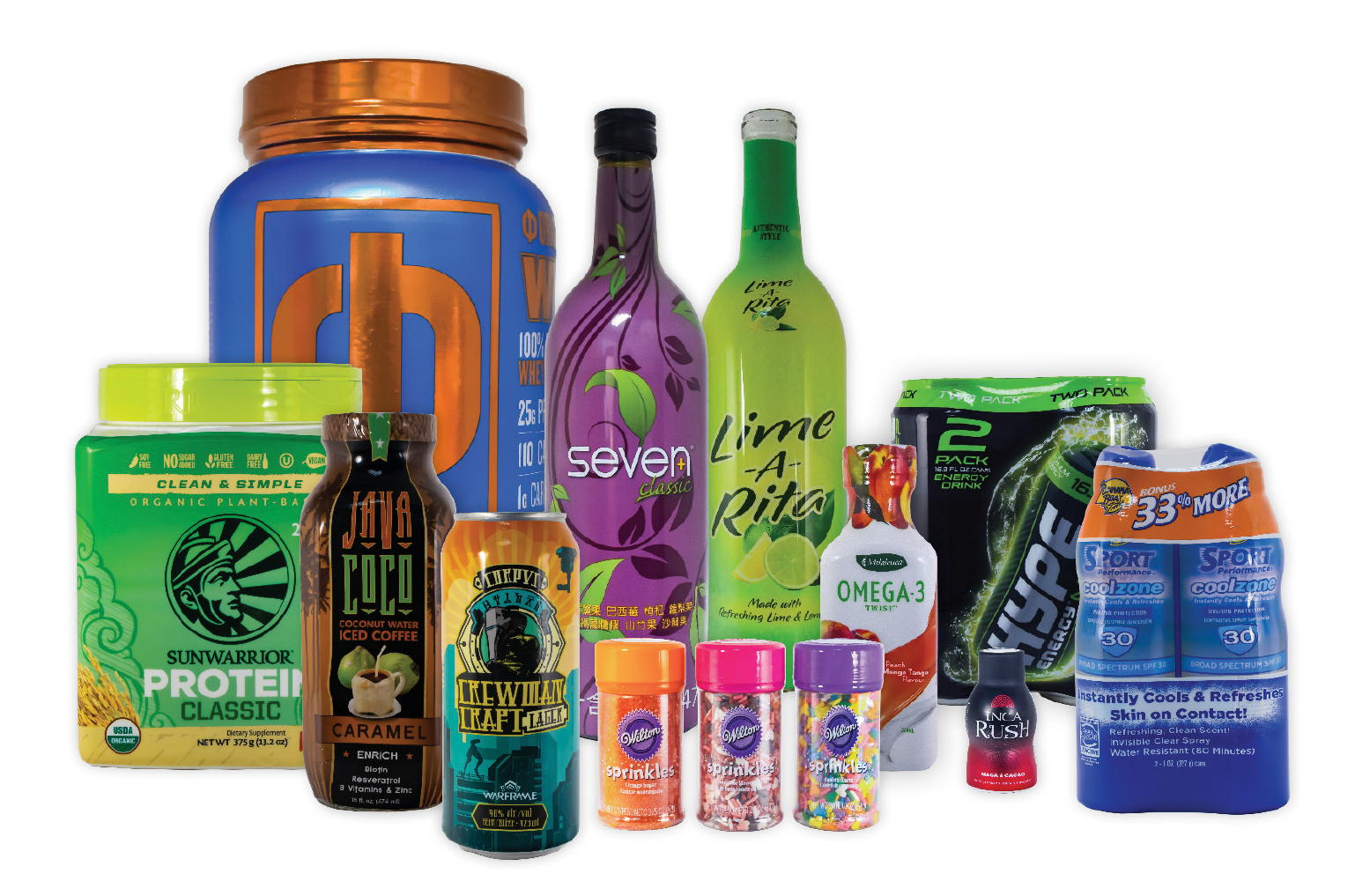 Seamless Full Body Sleeve Packaging
Brand managers choose Seamless Full Body Sleeves when they want to maximize their product's impact and increase their shelf appeal. For instance, a seamless full body sleeve covers the container from bottom to top and gives 360 degrees of space for marketing or regulatory information. Seamless printed full body sleeves are produced using digital printing, flexographic printing, or rotogravure printing. Certainly, all these printing methods provide excellent print quality and are used for a variety of print volumes. Seamless Shrink Sleeve packaging can be produced in quantities ranging from one to millions leveraging the advantages of each printing method. Clear seamless full body sleeves can cover a product for durability and tamper evident purposes.
Tamper Evident Shrink Band Packaging
When product safety is a concern, shrink band packaging can protect your products from tampering. Tamper Evident Shrink Bands are usually applied to the cap area of products to ensure consumers that the product has not been tampered with. These bands can be as simple as a clear band or be custom printed with your company's branding. In addition, stock printed bands are also available with "sealed for your protection" printed across the shrink band. These bands are available for hand application or automated application.
Multi-pack and Club-pack Sleeve Packaging
When brand managers want to bundle multiple products together for special promotions, Multi-pack Sleeves provide the most cost-effective solution. Products of various sizes can be bundled together as a single item with a simple clear seamless sleeve or an attractive printed sleeve. In short, one multi-pack sleeve can replace paperboard trays, gluing, wrapping and banding that are traditionally used for multi-packs, saving on product costs.
Shrink Sleeve Prototypes and Mockups
Product designers want to see their print products in final form before proceeding to full printing production, and printed mockups allow you to see your product designs shrunk right on your container. After that, you can then make decisions about your design and use them for photo shoots before committing to a full print production run. Mockups are great for marketing your new products to potential buyers and nothing beats handing a finished product to your potential buyers.
Digital Shrink Sleeve Labels
Digitally printed shrink sleeves & seamless full body shrink sleeve packaging offers the advantage of shorter run lengths without compromising print quality. Likewise, the shorter press runs allow you to customize your product decoration for special promotions, samples, multiple SKU's, serialization and localization. With digital printing there are no plate costs, perfect registration and unmatched print quality. Consequently, turnaround times can be as quick as same-day for many sleeves. Whether you need just ten full body sleeves or thousands, digital print sleeves can help you maintain quality while reducing your printing costs for short runs.
Rotogravure and Flexographic Printed Sleeve Packaging
When you need higher volume print runs, we can provide the option of rotogravure and flexographic seamless full body printed shrink sleeve packaging. Both options provide the best print quality and vibrant colors for your products. With both options available, we can help you choose the best printing technology to meet your production requirements. Special effects can also add to your products shelf appeal, including metallic inks, matte finishes, and fluorescent inks.
MORE INFORMATION (PDF pages)
Also known as: printed shrink bands, full body shrink labels, custom shrink labels, tamper-evident labels, 360-degree labels.
Traco Packaging offers a variety of shrink label products and equipment including tamper-evident shrink labels and pressure sensitive labels. As an industry leader in SuperShrink® labels, we have what you need to successfully package and market your products with shrink sleeves and pressure sensitive labels.
SuperShrink® Shrink Labels are also known as: printed shrink bands, full body shrink sleeves, custom shrink labels, tamper evident labels, pressure sensitive label, 360-degree labels, no-look labels.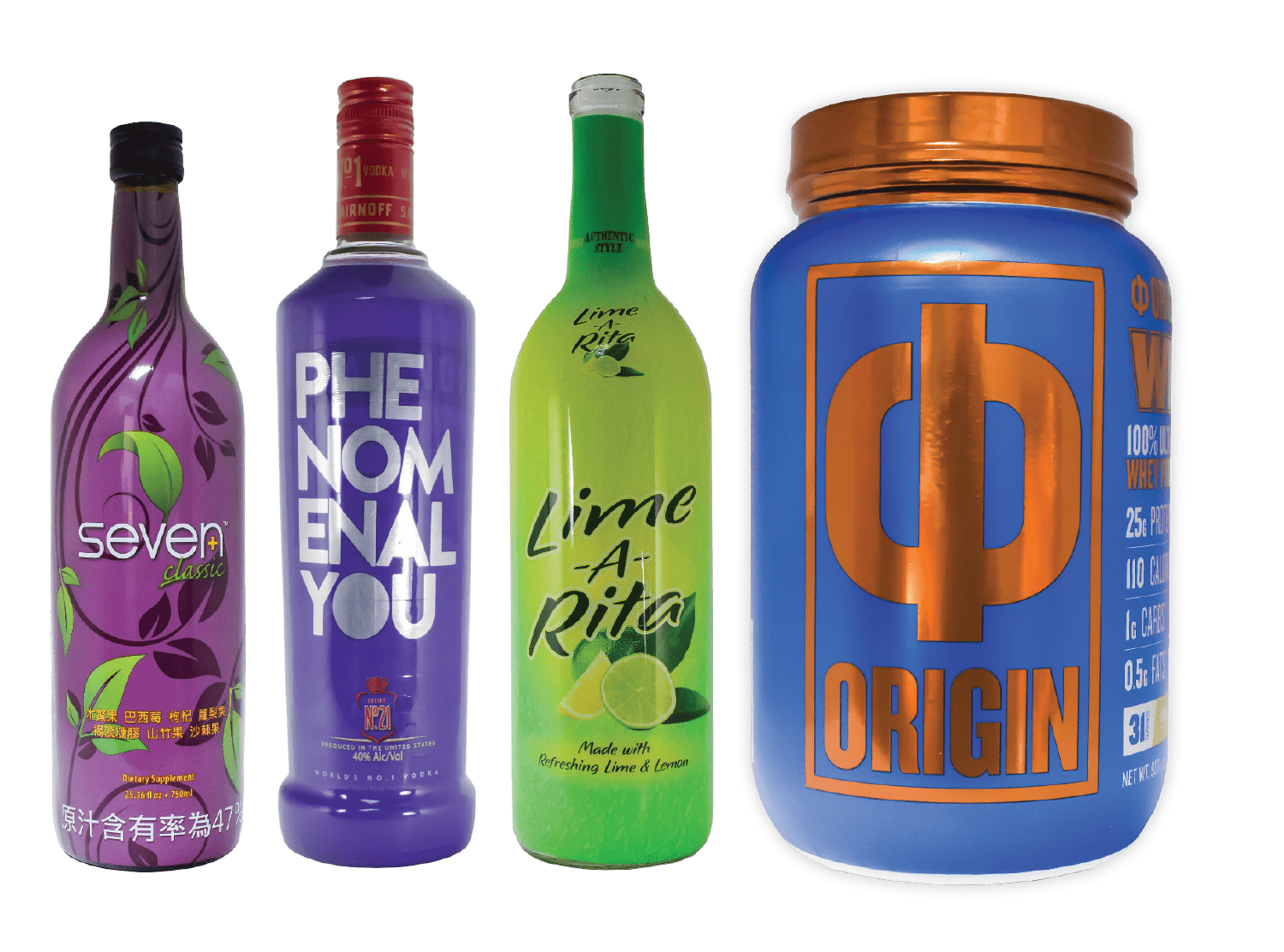 SuperShrink® Shrink Labels can be applied to all kinds of products and packaging—regardless of the size, shape or texture. This means, shrink labels provide a way to customize your product as well as protect them. Whether you need a full body shrink sleeve or a detailed pressure sensitive label, we have custom packaging solutions for all your needs.
Printed Shrink Sleeve Label and Tamper Evident Labels
Custom printed shrink labels are one of the hottest items for successfully packaging products. We offer many printing options including digital printing, flexographic printing and even rotogravure printing to match the quality and volume you need. Shorten your time to market with 2-day prototypes and mockups using Traco's digital printing service. Contact Traco Packaging today to see what we offer to help fulfill your immediate needs.
Options for your Shrink Sleeve Labeling
Traco offers many options when it comes to shrink labeling including the following:
PET, PVC, OPS
Highest quality rotogravure printing up to 10 colors
Heat activated adhesives
Metallic Inks, Cold Foil, Die cutting
Perforations (Horizontal, Vertical & T-perfs)
If you have questions about shrink labeling and how it can help your business, contact Traco Packaging today for assistance. We can answer your questions and address your concerns. We're here to help you with all your shrink label needs. Request a FREE quote by clicking Request a Quote in the menu and filling out the request form or by calling 877-358-4760 today.
MORE INFORMATION (PDF pages)
Deliver strong, safe, simply elegant, or surprising packaging solutions when product details sparkle through SuperShrink® bags, bands and sleeves. Whether a 2- or 3-pack or a promotional pack, cut bands join your products in their own protective band with a center seam engineered to resist breaking or tearing. In addition, superior reflective properties will improve customer appeal for single items and multi-pack promotions while protecting your products.
Cost-effective multi-pack bags and sleeves protect promotional or combined packages with strong, clear shine or custom printing.
Verify specifications with a free clear sample—sized to your unique product group. Each order is converted to industry tolerances. See clear quantities in the short turnarounds. Move custom printed orders to market quickly with two-day prototypes. Every order is competitively priced.
Options: PVC, PET, OPS, polyolefin substrates, bag or sleeve, seamless, seamed, tinted, printed, clear, perforated and pull tabs.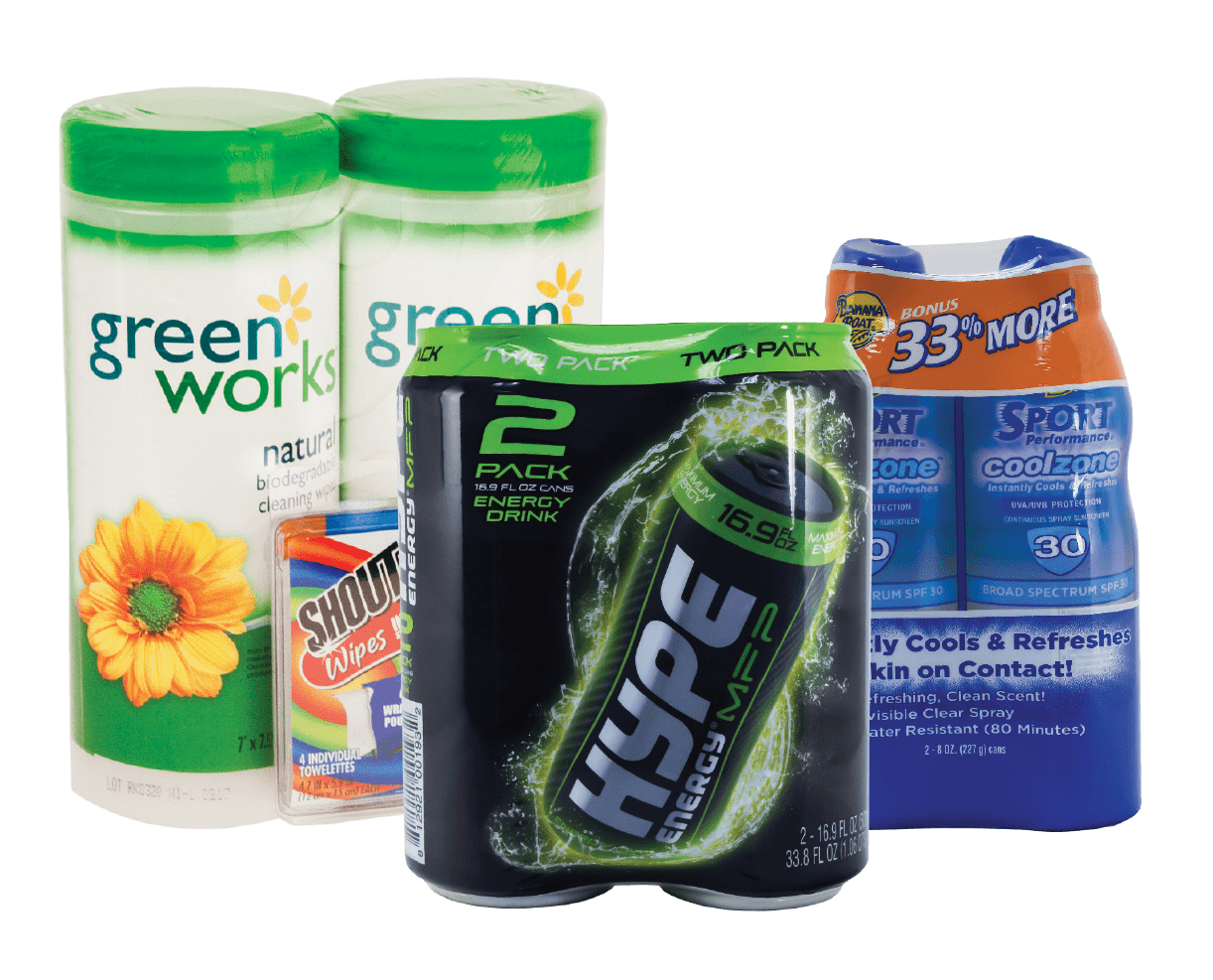 Also known as: pre-press prototypes, mock-ups, shrink labels, shrink label prototyping, shrink packaging labels, shrink sleeve labels, shrink bands, 360-degree labels, transparent labels.
Whether you're preparing to launch a new product or redesign a current product, Traco's digital packaging mockups will help you get your products to market fast. With digital printing, we can deliver shrink sleeve mockups and prototypes with fast turnaround, to get your products to market quicker.
Trends in packaging today have come about because of the millennial "ME" generation. Experience and personalization are the most sought after social currency. These days, stories and brands need to reflect a consumer's unique taste. Status symbols used to be, "I have it, too," while today's status symbols are all about, "I have the only one!" That means this audience expects one-off experiences, and they want it NOW.
Consumers today engage differently than consumers of yesterday. The brand they buy says something about who they are, their values, and where they fit in. A limited-time-only rollout of personalized packaging has the ability to create unique connections. To be able to change a package design so quickly, you need to be able to create mockups quickly. Creating digital packaging mockups is one way you can test your new packaging designs without breaking the bank. Make high-impact customized packaging and capture the right audience's attention at the right time.
Traco Packaging offers a full range of digital shrink sleeve printing services for your functional packaging prototypes, including full-color and extended gamut color, gold, silver, and white on various shrink sleeve substrates such as PVC and PETG. Using these options, we can create mockups that will allow you to see your product just as it will appear on store shelves without the costs of printing plates or a production run.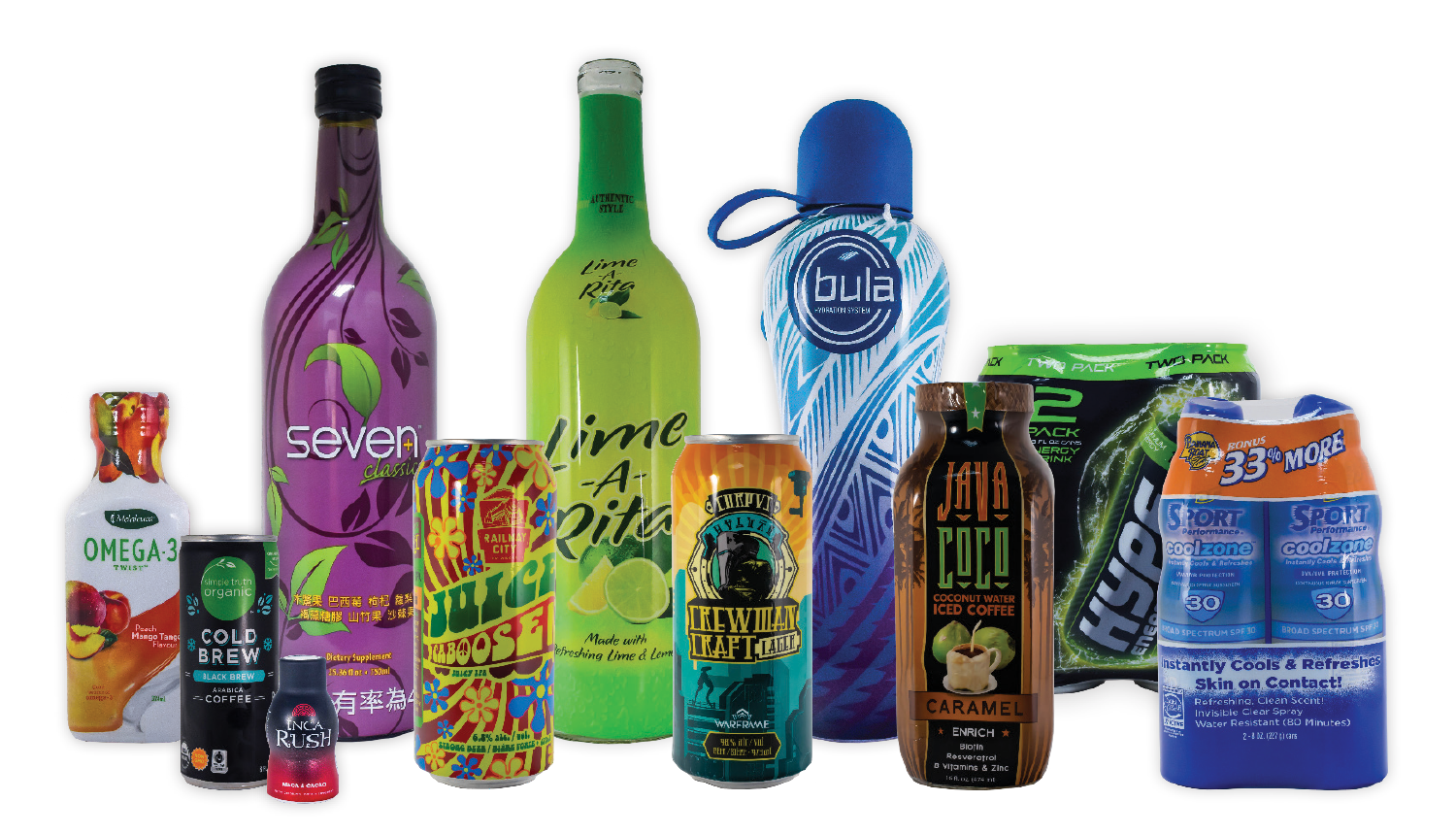 Digital Packaging mockups are ideal for a number of purposes, such as:
Research, Development and beta testing
Presentations and Focus Groups
Final Approvals
Pre-selling
Trade Shows
Photo Shoots
And so much more…
Why Choose Traco Packaging for Prototype Packaging?
When it comes to shrink label prototypes, it's important that you choose a packaging company you can rely on for both the prototypes and for final production. For years, customers have trusted Traco for their packaging prototypes and production needs.
Get a FREE quote for your digital packaging prototypes and mockups by filling out the form on our Request a Quote page or by calling 877-358-4760 today.
MORE INFORMATION (PDF pages)