Shrink Sleeves are quickly becoming one of the leading packaging options for brand managers, contract packagers, and private label managers. Seamless full body shrink sleeves conform to the shape of a package, provide 360-degree product decoration, and can provide unmatched durability and tamper proof evidence.
We see shrink sleeve packaging everywhere today. You'll find them on full body sleeve energy drinks, dairy products, cleaning products, fruit juices, and cosmetics and in almost every other category at your local store.
Shrink sleeves are available in many varieties and are designed for multiple functions. These include:
Seamless Full Body Sleeves (Printed and Clear)
Tamper Evident Shrink Bands (Printed and Clear)
Multipack & Club-pack Sleeves (Printed and Clear)
Shrink Sleeve Prototypes and Mockups
Advantages of Shrink Sleeve Packaging
Huge Display Area: With seamless full body shrink sleeve packaging, you can decorate almost the entire surface area of your product, your artwork in 360 degrees. No longer limited to just using the flat surfaces of your container, you can cover the contoured areas of your product with eye-catching graphics.
Durability and Protection: Shrink sleeve packaging is reverse-printed, so your branding and message are always protected from the elements. They are inherently fade resistant and protect from scuffing and shipping damage. Your products always look their best when covered by seamless full body shrink sleeve packaging.
Tamper-Evident Protection: With the addition of a perforation, shrink sleeves provide the consumer with confidence. Seamless full body shrink sleeve packaging can extend over the cap of your product to provide total tamper evidence right at the point-of-sale.
Price: We manufacture shrink sleeves from very thin PVC or PETG film, so they are an economical option for product decoration. In many cases a single seamless full body shrink sleeve can perform the functions of multiple labels and seals. This can reduce the number of steps required in the production of your product and get your product on the shelf faster.
Custom Fits Your Product: Seamless Shrink Sleeve packaging is custom manufactured to fit your product and will shrink to fit the body of your containers. Your product will look great from top-to-bottom.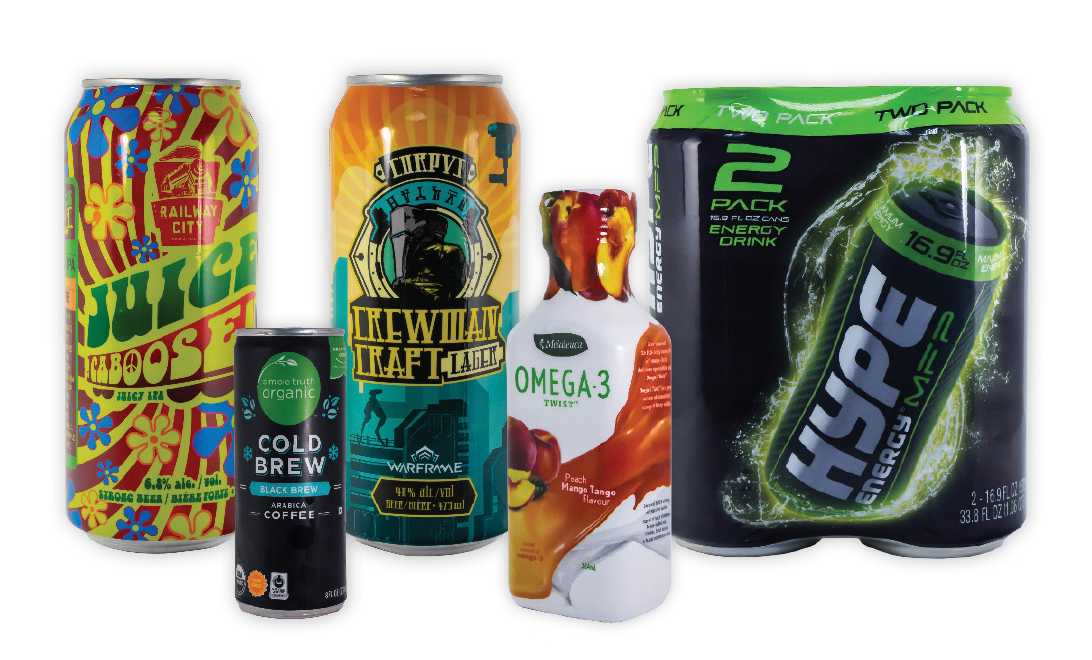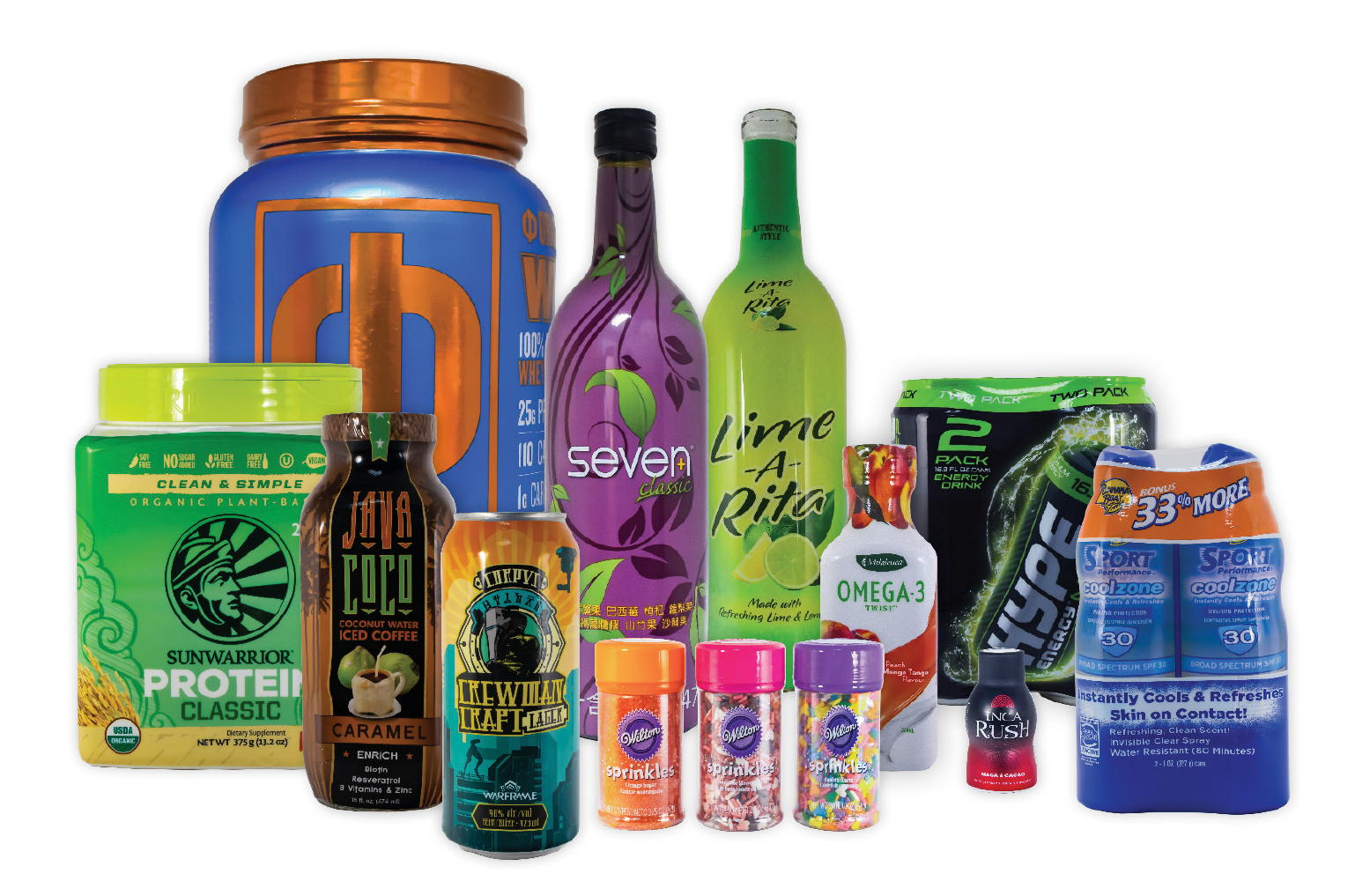 Seamless Full Body Sleeve Packaging
Brand managers choose Seamless Full Body Sleeves when they want to maximize their product's impact and increase their shelf appeal. For instance, a seamless full body sleeve covers the container from bottom to top and gives 360 degrees of space for marketing or regulatory information. Seamless printed full body sleeves are produced using digital printing, flexographic printing, or rotogravure printing. Certainly, all these printing methods provide excellent print quality and are used for a variety of print volumes. Seamless Shrink Sleeve packaging can be produced in quantities ranging from one to millions leveraging the advantages of each printing method. Clear seamless full body sleeves can cover a product for durability and tamper evident purposes.
Tamper Evident Shrink Band Packaging
When product safety is a concern, shrink band packaging can protect your products from tampering. Tamper Evident Shrink Bands are usually applied to the cap area of products to ensure consumers that the product has not been tampered with. These bands can be as simple as a clear band or be custom printed with your company's branding. In addition, stock printed bands are also available with "sealed for your protection" printed across the shrink band. These bands are available for hand application or automated application.
Multi-pack and Club-pack Shrink Sleeve Packaging
When brand managers want to bundle multiple products together for special promotions, Multi-pack Sleeves provide the most cost-effective solution. Products of various sizes can be bundled together as a single item with a simple clear seamless sleeve or an attractive printed sleeve. In short, one multi-pack sleeve can replace paperboard trays, gluing, wrapping and banding that are traditionally used for multi-packs, saving on product costs.
Shrink Sleeve Prototypes and Mockups
Product designers want to see their print products in final form before proceeding to full printing production, and printed mockups allow you to see your product designs shrunk right on your container. After that, you can then make decisions about your design and use them for photo shoots before committing to a full print production run. Mockups are great for marketing your new products to potential buyers and nothing beats handing a finished product to your potential buyers.
Digital Shrink Sleeve Labels
Digitally printed shrink sleeves & seamless full body shrink sleeve packaging offers the advantage of shorter run lengths without compromising print quality. Likewise, the shorter press runs allow you to customize your product decoration for special promotions, samples, multiple SKU's, serialization and localization. With digital printing there are no plate costs, perfect registration and unmatched print quality. Consequently, turnaround times can be as quick as same-day for many sleeves. Whether you need just ten full body sleeves or thousands, digital print sleeves can help you maintain quality while reducing your printing costs for short runs.
Rotogravure and Flexographic Printed Sleeve Packaging
When you need higher volume print runs, we can provide the option of rotogravure and flexographic seamless full body printed shrink sleeve packaging. Both options provide the best print quality and vibrant colors for your products. With both options available, we can help you choose the best printing technology to meet your production requirements. Special effects can also add to your products shelf appeal, including metallic inks, matte finishes, and fluorescent inks.
MORE INFORMATION (PDF pages)