Tamper-Evident Shrink Wrap
Tamper-Evident Shrink Wrap
All manufacturers of consumable products have a mandate to do everything in their power to assure consumers that they are buying safe, tamper proof, or tamper-evident products. One of the most efficient ways to provide this assurance is by sealing lids and caps with tamper-proof shrink wrap.
or band. We convert tamper-evident shrink wrap seals or bands from plastic tubing to exact customer specifications. Just a few obvious advantages to packaging with tamper evident shrink bands are:
Cost effectiveness
Secure seals
Tamper-evident/Proof
Professional appearance
Try a sample to ensure exact fit—no surprises! Enjoy the largest selection of sizes in the industry coupled with quick response time for custom runs, rush orders, or just-in-time deliveries.
Custom manufactured to meet the most stringent customer specifications. Tolerances meet or exceed all industry standards.
All sizes, gauges & colors; in clear, opaque & tinted
Order in stock prints or request custom printing
Specify pull tabs, vertical & horizontal perforations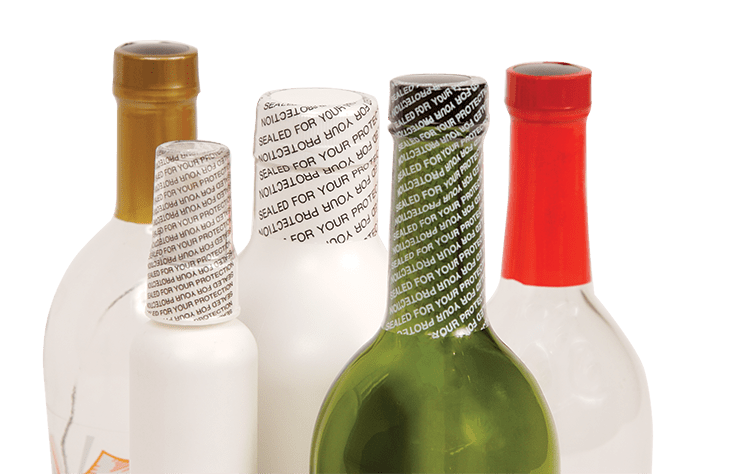 Cost-Effective Tamper-Evident Packaging
When tamper-proofing containers with caps, lids, and other closures, tamper-evident shrink wrap is the most cost-effective choice available. Employees can easily train to apply a tamper-evident packaging band, saving the manufacturer time and money. Companies around the world use tamper-proof shrink wrap to both save money and provide consumers with the assurance of a clean, professional, tamper-proof seal.
Product Security and Safety
Aside from the cost-effective benefits of tamper-evident bands, they also provide the advantage of a secure and professional looking seal on the container. Tamper-proof shrink bands are an important component in the packaging process of any product to assure consumers safety and security upon making a purchase. Tamper-evident seals protect products from leaks and spills. Importantly, protecting products with secure seals is one of the main reasons why suppliers around the world choose tamper-proof shrink wrap to meet their packaging needs.
When purchasing products consumers look for the assurance of a safe and secure quality product, packaging appearance is their first impression. To meet stringent consumer safety guidelines, manufacturers usually include a product guarantee on the packaging, but in order to protect themselves, manufacturers take it a step further by sealing their products with tamper-proof shrink wrap. This way, when a consumer purchases their product and the tamper-evident band is intact, manufacturers know that the product is protected in every possible way. Above all, consumers can rest assured that the product guarantee will compensate for any product issues over safety and security.
In addition to their low cost, strong seals, and tamper-evidence, a tamper evident shrink band can provide a quality packaging seal without interfering with a clean, professional, product appearance. Additionally, these packaging bands are also easily removed so the consumer doesn't have to fight with pocket knives or scissors to access the product. When image is everything in the marketing world, tamper-evident shrink wrap that is both attractive and efficient is the smartest choice for manufacturers.
MORE INFORMATION (PDF pages)