SuperShrink™ Preform Shrink Bands
Traco SuperShrink™ Preform Shrink Bands
SuperShrink Preform Shrink Bands
You can use SuperShrink Preform Shrink Bands on practically any type of container or bottle. Preforms are converted from plastic tubing and partially shaped or "pre-formed" to custom fit your bottle or container. Preforms secure caps, lids and closures with easily recognized tamper-evidence on tapering containers. Since we design preforms to fit your bottle or container, application is fast and simple. Traco preform plastic tubing is great for dairy, deli, and thermoformed containers.
Try a sample to ensure exact fit—no surprises! Enjoy the largest selection of sizes in the industry coupled with quick response time for custom runs, rush orders, or just-in-time deliveries.
Custom manufactured to meet the most stringent customer specifications. Tolerances meet or exceed all industry standards.
All sizes, gauges & colors; in clear, opaque & tinted
Order in stock prints or request custom printing
Specify pull tabs, vertical & horizontal perforations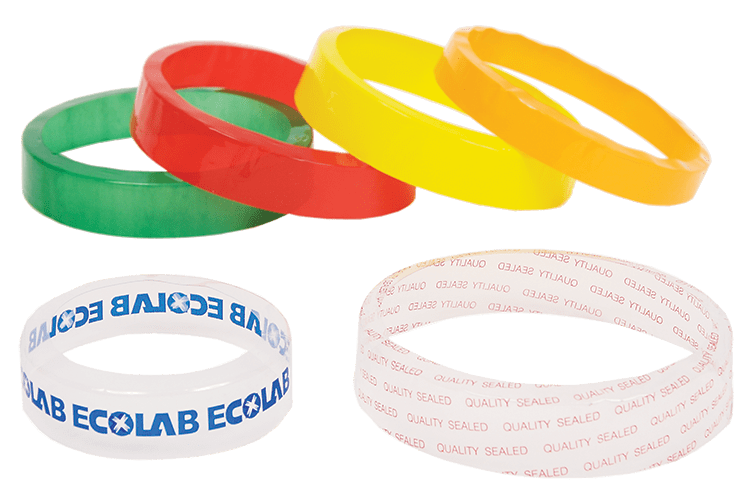 Also known as: shrink bands, custom bands, tamper evident bands, tamper-evident seals, safety seals, cap bands, cap seals, clear bands, seamless bands.
We carry various types of stock perform bands including PVC clear bands, colored bands and pre-printed bands. Do you want to have your company stand out from the rest? You can rise above the competition with custom printed preform bands. Choose words, colors or logos to build brand identity and show the safety of your products.
Preform bands are shrink sleeve bands placed over packages to seal and provide tamper evidence for your products. They are preformed to fit your products and can be used to provide a secure seal for many shapes of containers and tubs. Common items on which you can use SuperShrink® preforms:
Dairy products—Use plastic preforms on milk bottles, creamers, yogurt, cottage cheese lids, etc.
Fresh food products—Seals lids on containers and trays providing a safety seal and tamper proofing for fruits, salads and vegetables, etc.
Juices and beverages—Preform bands can seal the lid or cap. This makes it safe and tamper evident to comply with FDA and Homeland Security regulations.
Thermoformed containers—Seal lids on thermoformed containers with shrink wrap plastic preforms for easier manufacturing, distribution and display.
Protect Your Products With SuperShrink Preform Shrink Bands.
Traco Packaging experts will verify what sizes you will need to fit your unique packages. We will then recommend stock sizes or custom sizes. Stock sizes and print designs have the shortest lead times and can be delivered to meet your tight deadlines. Every order is competitively priced and made from the highest quality materials. Contact us today and let us help you decide what product will be right for your application.
MORE INFORMATION (PDF pages)