SuperSealer Shrink Band System
Tamper-Evident Shrink Bands for Maximum Safety
One of the most popular trends in packaging today is the use of tamper-evident shrink bands. Manufacturers use tamper-evident bands most commonly in food and beverage products and are also required to use them for most OTC pharmaceutical products by the FDA. Heat shrinkable tamper-evident seals offer many benefits. Customers want to know that the product is clean and hasn't been tampered with. Typically, this is done with pre-formed shrink sleeve bands. However, there are some advantages and disadvantages to using pre-formed bands. If your company is small, then using pre-forms may be your only route due to cost, but if you are a medium to high-volume pre-form user, you may benefit from automating the process. For those users, a better way now exists to get the benefit of tamper-evident shrink bands without all the troubles. Let's examine.
There is no doubt that if tamper-evident seals enhance consumer safety, then seeing these bands will make products more appealing to consumers at the point of purchase. Increasingly, we see fresh produce in grocery stores packaged in plastic containers, and customers want to know that the product has been untouched. Tamper-evident banding gives them peace of mind, especially when looking at packages of fresh vegetables or fruit that have been put into a plastic container. Retailers might "seal" containers with a sticker, but they can often be removed and replaced, not really providing a tamper-proof solution. Stores sometime use a ziplock-type or self-locking container, but they are more expensive than conventional plastic containers with a shrink band seal. With a tamper-evident shrink band, consumers can rest assured that the product they are choosing hasn't been touch or tampered with since it was packaged.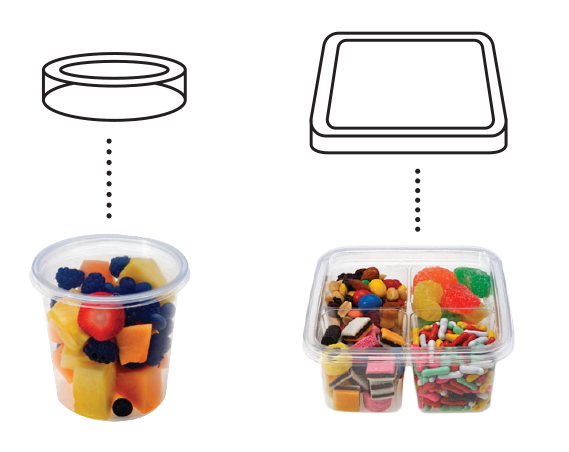 Pre-formed Shrink Sleeve Bands
Normally, a packager will place pre-formed shrink sleeve bands over packages (by hand) to seal and provide tamper evidence for your products. Pre-forms, as they are called, are special shrink sleeves pre-formed to fit your product packaging and can be used to provide a secure seal for many shapes of containers and tubs. Common items on which you can use pre-forms:
Dairy products—Use plastic pre-forms on milk bottles, ice cream containers, creamers, yogurt, cottage cheese lids, etc.
Fresh food products—Seals lids on containers and trays providing a safety seal and tamper proofing for fruits, salads and vegetables, etc.
Juices and beverages—Pre-form bands can seal the lid or cap. This makes it safe and tamper evident to comply with FDA and Homeland Security regulations.
Thermoformed containers—Seal lids on thermoformed containers with shrink wrap plastic pre-forms for easier manufacturing, distribution and display… a cheaper method than self-locking or ziplock containers.
Pre-forms provide the security of tamper-evident shrink bands, however, for large volume or high-speed applications, there are some significant disadvantages. Labor must be used to de-nest and place pre-forms onto containers by hand then load them onto a conveyor that goes through a heat tunnel for shrink application. This labor-intensive process will in turn increase product lead time and costs and slows down production times. Pre-forms require you to keep a large inventory on hand which increases freight costs; high-volume pre-form users must often ship an entire truckload to get the number of pre-forms they need for production. This increases material costs because you must keep inventory of every different pre-form size and shape you might need, which often requires nesting and de-nesting of multiple shapes and sizes adding to labor costs while trying to save freight costs. And with a large inventory comes the risk of material aging or obsolescence when a product is discontinued or changed. For example, if a manufacturer changed the size of a container by even a few millimeters, the entire load of stocked pre-forms for that container would become unusable.
As you've seen, many disadvantages exist with using hand-applied pre-formed shrink bands for high-volume or high-speed applications, but we now have new innovations in the packaging world. You can now receive the benefits of tamper-evident shrink sleeve bands without all the problems that commonly come with pre-formed shrink bands with the advent of a new machine: Introducing the New SuperSealer® Shrink Band System by Traco Packaging.
SuperSealer® Shrink Band System
A machine now exists to automate pre-form application, engineered for medium to high-volume pre-form users. This new system will help:
Automate pre-form application
Reduce inventory
Reduce labor costs
Decrease lead times
Recapture warehouse space
Lower freight costs
Eliminate inventory obsolescence
There are seven lean benefits to using the new SuperSealer Shrink Band System:
Reduce Labor Costs: The Shrink Banding System automatically forms and shrinks the film onto the container, matching the shape and size automatically—all in-line without manual labor.
Reduce Material / Film Costs: Slash 50% – 70% off the material costs for conventional pre-forms.
Reduce Freight Costs: You can now ship one pallet of film that equals an entire truckload of pre-forms. One pallet vs. one truckload—you do the math!
Drastically Shorten Lead Times: Traditional pre-forms require multiple SKUs with long lead times (most oftentimes from China, up to 16 weeks) and are labor intensive to apply. Now you can have one pallet of film on your floor that will form to any size, any shape of custom container and application is automated up to 45 PPM!
Reduce Supply Interruptions: Changeover from one size to another in less than a minute—run random-sized containers of similar height with zero changeover time.
Reduce Inventory Carrying Costs: Three standard film roll sizes fits any size or shape container (within machine specifications). That's it. No more nesting and de-nesting of multiple shapes and sizes and trying to juggle inventory space.
Eliminate Obsolete Inventory: Eliminate all pre-form aging and obsolescence. With one-size-fits-all film, you'll always have the perfect amount.
Gain the benefits of reducing costs and increasing production by getting the SuperSealer Shrink Band System for your workflow. At Traco Packaging, we have the expertise to help you. Get in touch with one of Traco's sales representatives now and let us help you increase your ROI by calling 800-284-9727, emailing us at info@tracopackaging.com, or going to www.tracopackaging.com/request-a-quote-sbss/.