SuperSealer® Shrink Wrap Machines
SuperSealer® Shrink Wrap Machines
Also known as: manual supersealer, I-bar sealer, bar sealer, shrink sealer, centerfolded shrink wrap sealer, portable shrink packaging equipment, manual sealer, hotshot heat gun.
Traco Packaging is an industry leader in packaging equipment and shrink film products. With offer 200 years of combined experience we provide high quality products and exceptional customer service. One of our featured products is our Portable Deluxe SuperSealer™ shrink wrap machine.
What Can Shrink Wrap Machines Do For You?
Traco's SuperSealer® is the number one selling portable shrink wrap machine worldwide. Shrink wrap machines are also knows as shrink film sealer, bar sealer, manual sealer and shrink wrap systems. The SuperSealer makes it easy to apply shrink wrap to your products.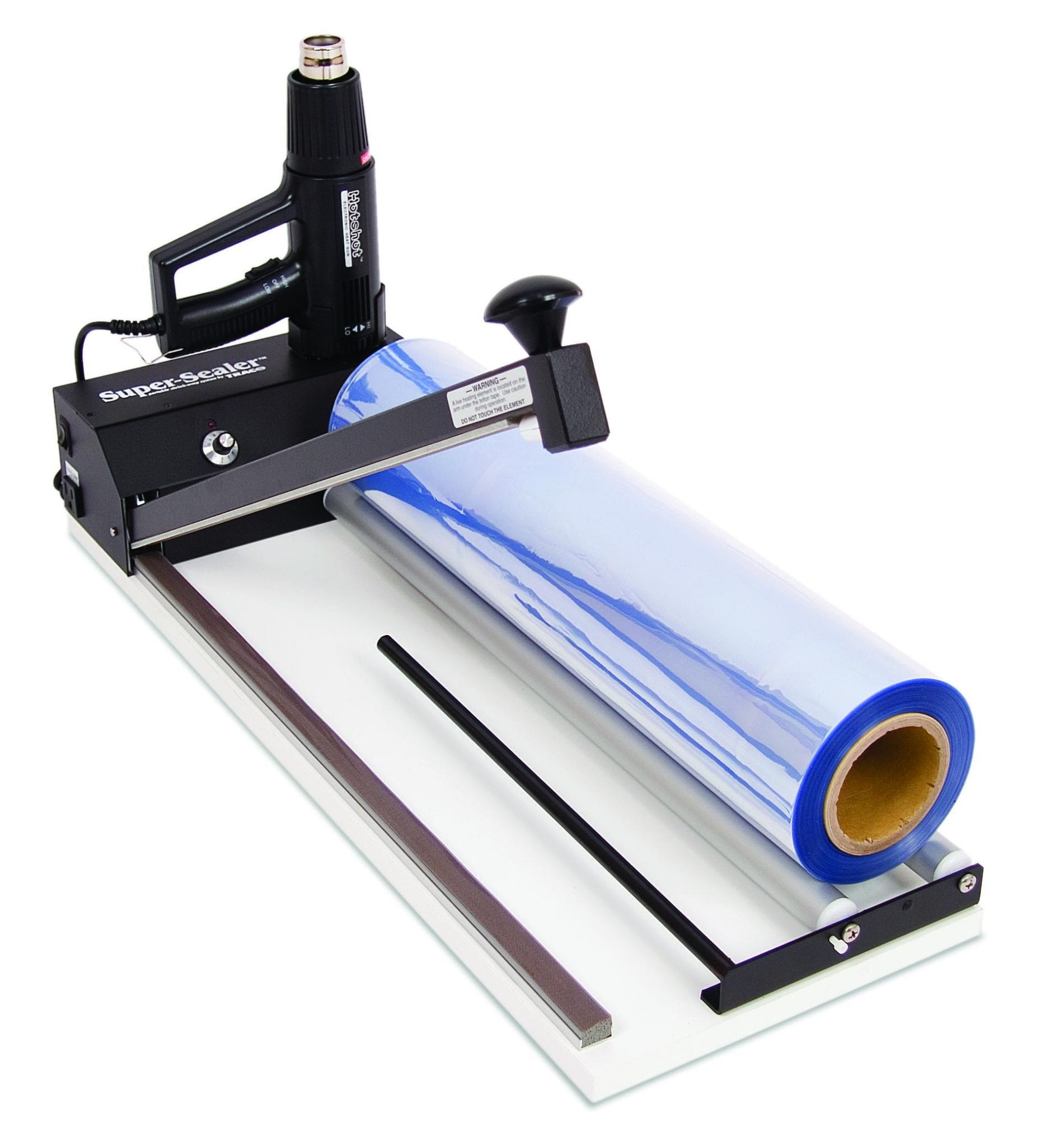 It is easy to give your products a professional quality look with a quick application of shrink film using the SuperShrink® machine. There are currently over 150,000 SuperSealers® sealers in use today worldwide. Our shrink wrap machine carries UL, ULC and CE approvals as well as an industry leading two year warranty. Just about any product can be shrink wrapped–such as:
Books – Protect book covers and pages from getting ripped and damaged by shrink wrapping them before delivery.
CD's and DVD's – Protect and cover your media discs from theft by shrink wrapping the case.
Pamphlets – Carrying and delivering pamphlets has never been easier when they are pre-wrapped for convenience.
Overwrap boxes and packaging – Protect your contents from spilling or breaking with shrink wrap.
Our portable SuperSealer® shrink wrap machine is easy to use and requires no assembly. Just plug it in and you're ready to wrap. It's lightweight, sleek and is built to last. It also comes complete with the ultra-light HotShot® adjustable temperature heat gun.
Our SuperSealer® comes in two models – standard, deluxe. Our standard and deluxe SuperSealer® machines come in sizes ranging from 13 inches to 40 inches. Call us today and we will help you decide which shrink wrap machine and supplies will work best for your applications.
Thanks to our friends at ABC Office for the video about how to use the Traco SuperSealer IBar Shrink Wrapper.
MORE INFORMATION (PDF pages)