PVC SuperShrink Film Bags
Also known as: Super Shrink bags, square bags, retail shrink bags, pvc bags, PVC bags, shrink bags, side-seam free bags, promotional bags, multipack bags, supershrinkbags.
With PVC SuperShrink film bags from Traco Packaging, you can wrap your retail products, so they'll be protected and look great. PVC shrink wrap bags are a great way to wrap your products, such as DVDs, CDs, software, and printed material. Additionally, pull-up cello bags, polypropelene (non-shrink) bags, and plastic candy bags are bags of choice for a host of other promotional and retail products.
Get a FREE product quote by filling out the form on our Request a Quote page or by calling 800-284-9727 today.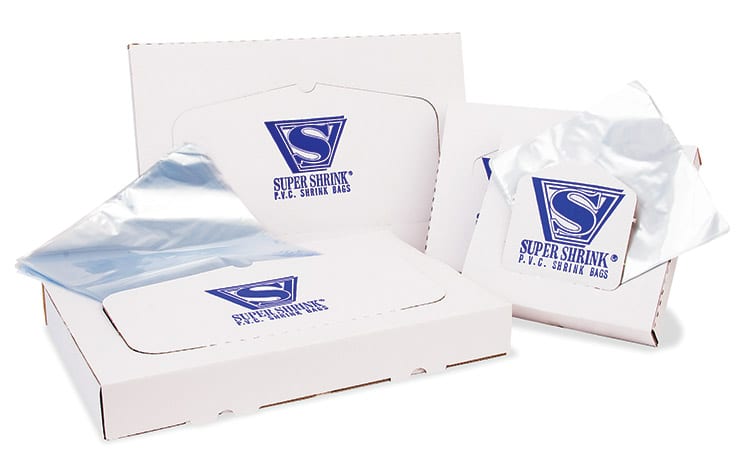 The Smart Choice for Stock Bags
When it comes to choosing packaging for your products, you want to be sure you choose a packaging company that offers quality products and unbeatable service. That's why customers have been turning to Traco for 30 years.
With Traco as your packaging supplier, you'll enjoy:
Huge inventory of products to choose from—Traco offers the largest inventory of shrink film in North America. No matter what type of PVC shrink bags you need, we have them on hand in all sizes and styles. Available sizes (inches) include: 6×6, 6×11, 7×10, 8×12, 9×14, 12×16 and other popular sizes. Our massive inventory gives you greater product selection and faster delivery of your order.
Quality products—Never settle for anything less than the best. Your products need top quality protection, and they need to be presented to your customers in a clean, professional manner. We use quality films that look great and perform even better.
Guidance from experienced professionals—Traco has been serving customers for 30 years, meeting the diverse packaging needs of a broad portfolio of clients. Our team has 200 years of combined packaging experience, helping you choose the right PVC shrink wrap bags and packaging equipment for your products.
We strive to offer competitive prices on all of our PVC SuperShrink film bags. Contact us today for a free quote.
Get a FREE quote for your stock bags by filling out the form on our Request a Quote page or by calling 800-284-9727 today.
MORE INFORMATION (PDF pages)