Shrink Wrap Plastic Supplier
When it comes time to package your product you want to choose a packaging film that will improve product appearance and quality. Traco is an industry leading shrink wrap plastic supplier of the finest PVC packaging films available. Traco's PVC shrink film will package your products to meet the most stringent standards enforced.
Popular among manufacturers, Traco's PVC shrink films are known for their smooth, flat surface, highly reflective appearance, and high clarity. It is very versatile and will perform well on low, medium, or high-speed applications.
This manufacturer favorite film is often used by suppliers of art and frame products, DVDs, and Blue-ray cases. PVC shrink film is ideal for manufacturers or suppliers of candles due to its ability to resist color bleed and odor leaching, although any product can be packaged with this film.
Traco's PVC shrink film requires very low temperature to shrink (works great with heat guns). This shrink film is ideal for operators who work with (low end) 110-volt sealers and shrink tunnels as well as 220-volt systems. It has the ability to resist ambient heat in transit and storage. Suppliers prefer PVC shrink film because it improves shelf life and is less likely to experience problems with blocking from unintended exposure to heat or sunlight.
PVC films are ideal for food manufacturers or processing plants. It's the number one choice for food suppliers needing to shrink wrap fruit baskets because of its FDA compliance for indirect food contact.
Ask one of our packaging specialists for a free sample to test on your equipment. They will help manufacturers or suppliers determine whether our PVC shrink film will best suit your packaging needs.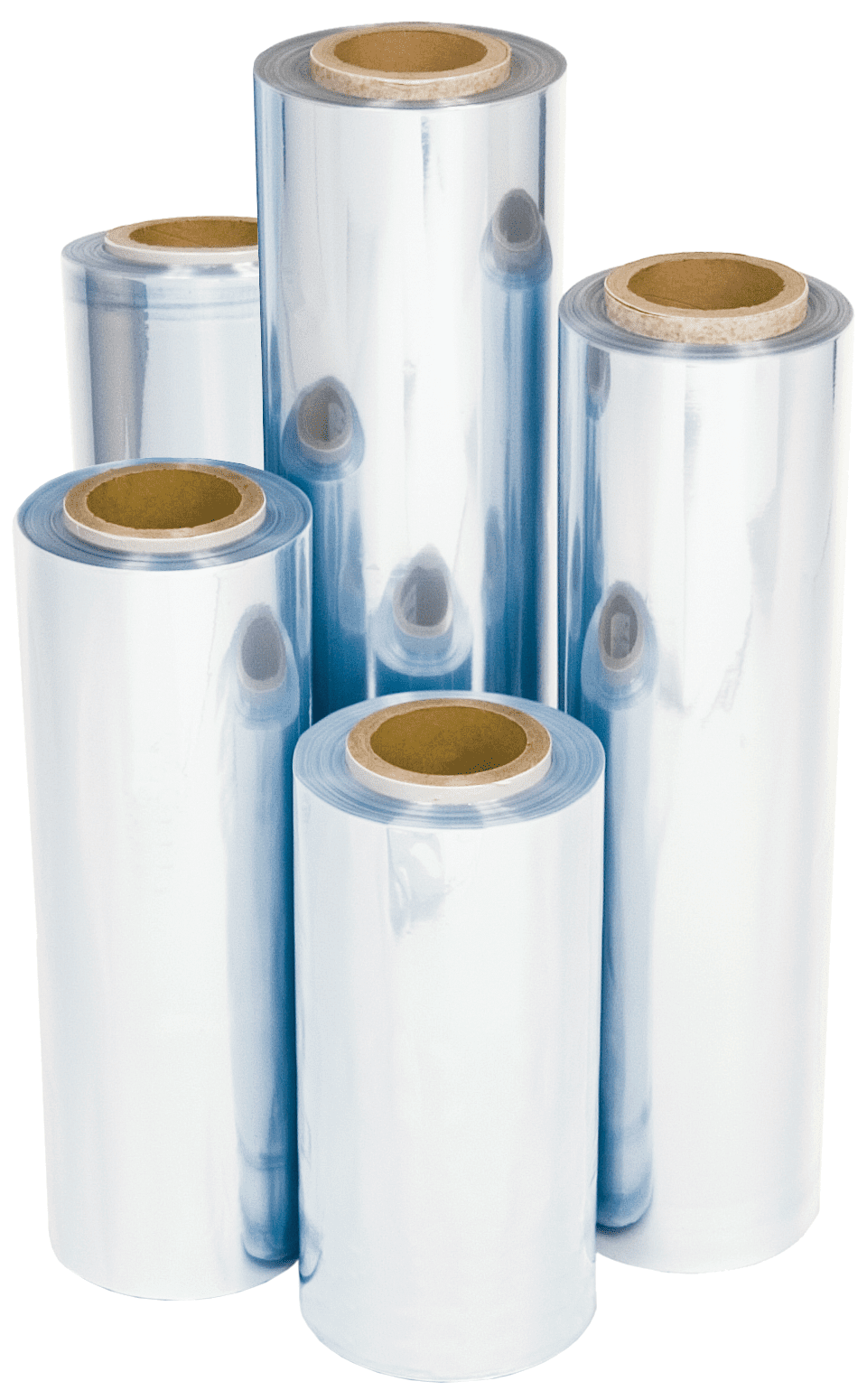 Also known as: super shrink, supershrink, center-folded, centerfolded, center folded, PVC, pvc, P.V.C., polyvinyl chloride, plastic shrink film, single wound, tubing.
Center folded, single wound, tubing, roll lengths, guages, micro-perforations, substrate formulations, clear, tinted or printed.
MORE INFORMATION (PDF pages)
Traco prides itself on the value of our packaging films. We carry polyolefin films with many different unique features including: Multi-layer films for most industrial shrink film applications, Cross Linked film for stronger seals and better zipper strength, High Speed film for automatic machine applications, Soft Shrink film for packaging items with limited substrates or backing, Hot slip film for easy pack off in cartons, and Low Temperature films for heat sensitive applications or low end equipment.
Our customers can rely on our 35 years of experience and expertise to ensure exact film matches for all of your packaging applications. Our polyolefin films provide strong, clean seals, fantastic clarity, and run on any machinery from manual applications up to high speed industrial operations. Just a few of our polyolefin film products include:
Heat Shrinkable Film (center folded or single wound)
Polyolefin Shrink bags for greater strength and shelf life
Shrink Film available in 45, 50, 60, 75, 100, 125, 150 gauge
Sizes available from 8″– 40″
Ask us for special sizes and gauges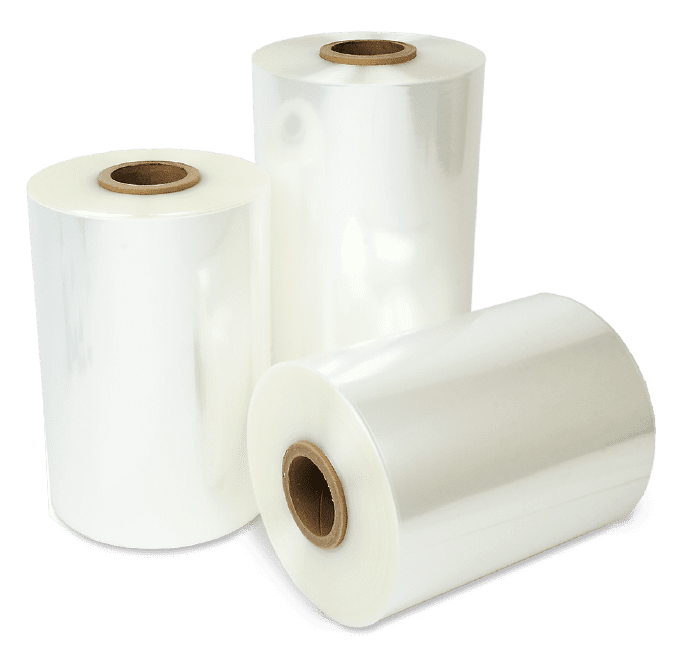 Also known as: SSPXi, supershrink polyolefin, SSP-PLUS, SSPY, puncture-resistant, shrink film, shrink wrap, polyolefin film rolls, polyolefin overwrap, high speed polyolefin.
The Polyolefin Solution to FDA Regulations
Polyolefin shrink films are becoming more and more popular with the advancement of "Earth/Environmentally friendly" awareness. Polyolefin shrink films provide the best optical quality making it ideal for use with products that are packaged and displayed on store shelves, and they also meet FDA regulations for direct food contact making it the top film choice of culinary institutions throughout the country.
Traco's cross linked polyolefin shrink films are competitive next generation films designed for improved strength and functionality on manual, semi-automatic, and automatic heat shrink packaging equipment.
Our shrink film experts will work with you to determine which polyolefin film is the perfect fit for your application. Just ask us for a free sample roll to test on your manual, semi-automatic or high speed equipment.
Traco's new polyolefin shrink bags are the toughest heat applied shrink bags on the market. Polyolefin shrink bags are FDA-compliant for direct food contact. We can easily meet the custom design demands of any customer. If you desire, Traco can use Polyolefin shrink tubing to make shrink bags without side seams that may detract from the overall appearance, strength, and integrity of the shrink bag. Traco's polyolefin shrink bags are easily applied by any simple heat medium and produce the clearest and toughest shrink bags in the industry.
Request a quote today to find out more about our polyolefin films and polyolefin shrink bags.
MORE INFORMATION (PDF pages):
Traco's shrink film tubing gives you the ability to customize your shrink wrapping requirements to meet your unique demands. We offer a full range of packaging products to choose from, and all of our shrink wrap film rolls meet the most stringent quality demands, giving you a convenient, inexpensive way to package your products.
Whatever packaging challenges you face, we have the equipment and the knowledge to meet your every need. We'll assist you with choosing the right shrink film tubing for your packaging applications.
For nearly 30 years, Traco Packaging has been providing customers across the country with high speed shrink film tubing to meet their packaging demands. Not only has Traco been in business for 30 years as a leading shrink roll supplier, but we also boast 200 years of combined packaging experience among our staff.
What does this mean for you? It means you can rest assured that we have the knowledge, resources, and ability to meet all of your high speed tubing needs. Rely on our proven shrink wrap plastic supplier experience to get the packaging solutions you demand.
Get a FREE quote for your PVC tubing by filling out the form on our Request a Quote page or by calling 800-284-9727 today.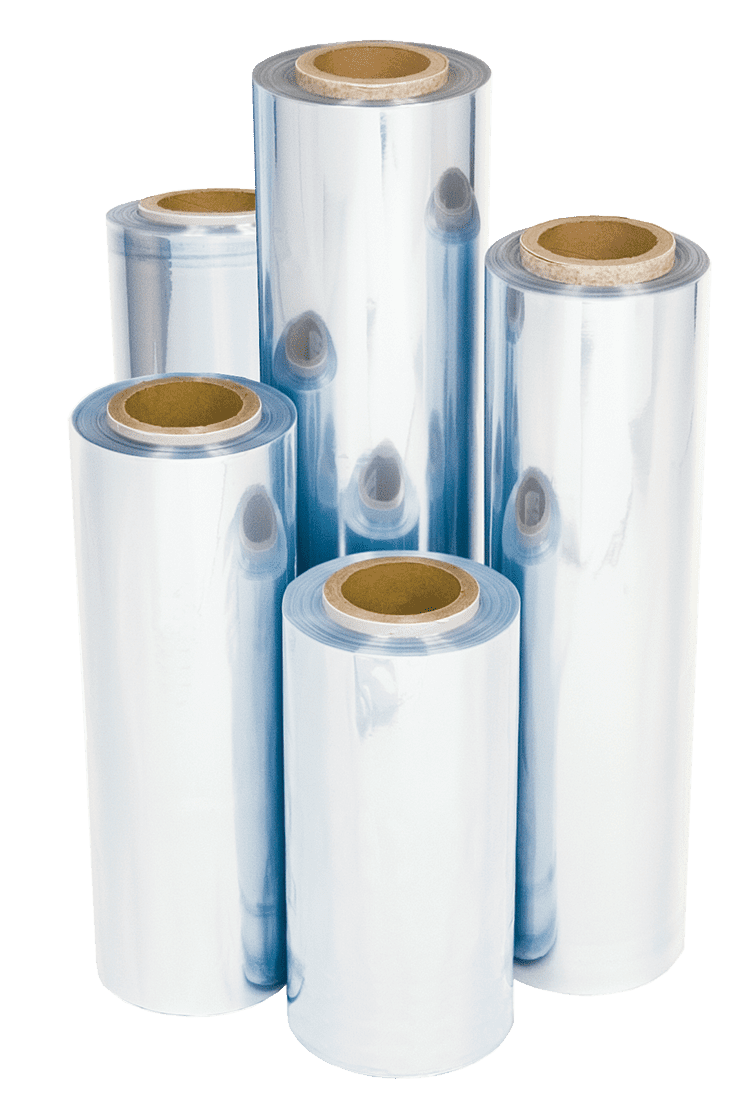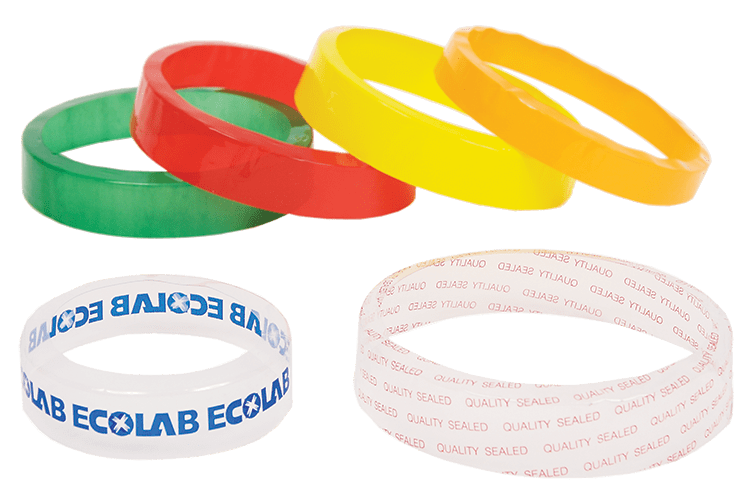 Also known as: tube shrink banding, printed tubing, high-speed sleeves, pvc tubing, pet-g tubing, ops tubing, automatic bands, high-speed banding, tamper evident bands, high speed tubing, automatic tubing.
The Largest Inventory Of Shrink Film In North America
Did you know that Traco has the largest inventory of PVC shrink film in the U.S. and North America? That's right…no other company can match our massive inventory. We have a vast range of sizes available for you to choose from, so you can always find the shrink film that's just right for your products.
This means your orders are delivered faster with minimal delays or back orders. In fact, stock orders ship within 48 hours, so you get the packaging equipment and shrink sleeve tubing products you need as fast as possible.
Ready to find out more? Get your FREE quote by filling out the form on our Request a Quote page or by calling 800-284-9727 today.
MORE INFORMATION (PDF pages)
Also known as: dome bags, gift basket bags, polyolefin bags, PVC bags, seamless shrink bags, side-seam free bags, promotional bags, multipack bags, RPMA gift bags.
SuperShrink™ dome bags are convenient shrink bags made for gift baskets and multi-pack products. Dome shrink bags can be used to seal items in baskets, as well as seal multi-pack items together. They are convenient, easy to use and look great.
Dome bags are also specifically available in 2mil thickness for shipping your products for protection and to avoid spillage when shipping from fulfillment centers such as Amazon who now require this protection.
Many Options with Shrink Bags, Shrink Wrap Bags, Gift Basket Bags, Dome Bags and More!
Traco's dome bags are the clearest and toughest shrink bags on the market. By applying heat the bags shrink to fit any shape, offering protection and tamper proofing for your products.
They meet FDA compliance for direct or indirect food contact. With so many options we are sure to have a style and size to fit your needs. We offer the following Shrink Bag options:
Polyolefin/PVC/PLA/PET/OPS: Various types of shrink bags for all your shrink wrap needs.
Custom Arc and Dome Shapes: Our bags are available in dome and square shape bags. Vented bags can also help make application easier and provide a clean finished look for your products.
Stock and Custom Sizes – we carry sizes from 4 x 6 inches to 36 x 36 inches, but can also provide custom sizes from 4-40″ wide and up to 52″ long. Our sizes will fit any product and basket you carry.
Clear Bags –They are super clear for optimal product viewing when wrapped.
Printed Bags – We offer custom printed bags as well as bags of different colors. Check out our seasonal printed bags for holidays and special promotions.
PVC 1mil – 2mil bags available
2mil dome bags for shipping from fulfillment centers like Amazon for protection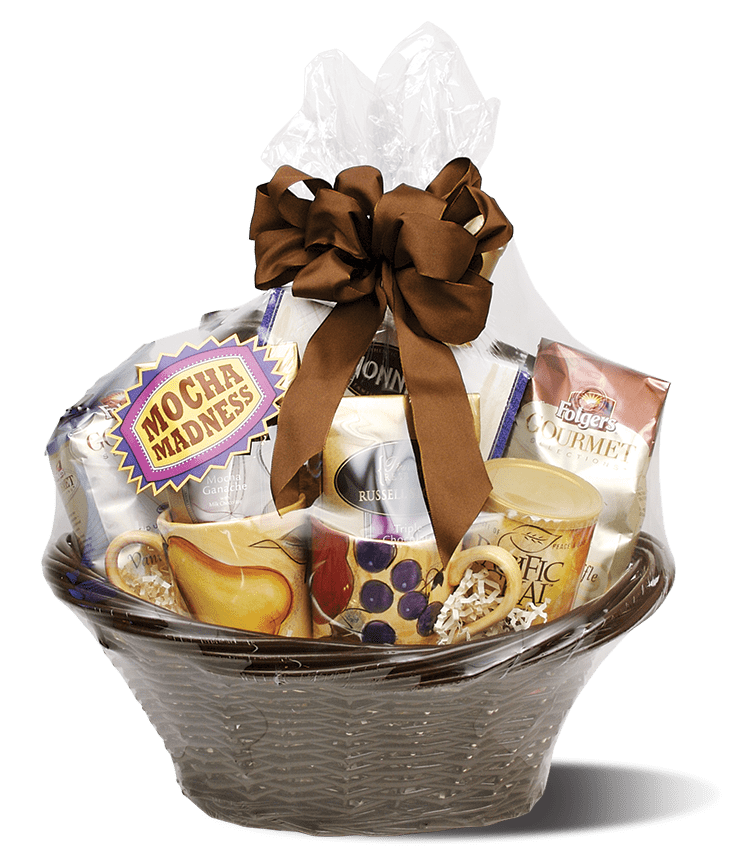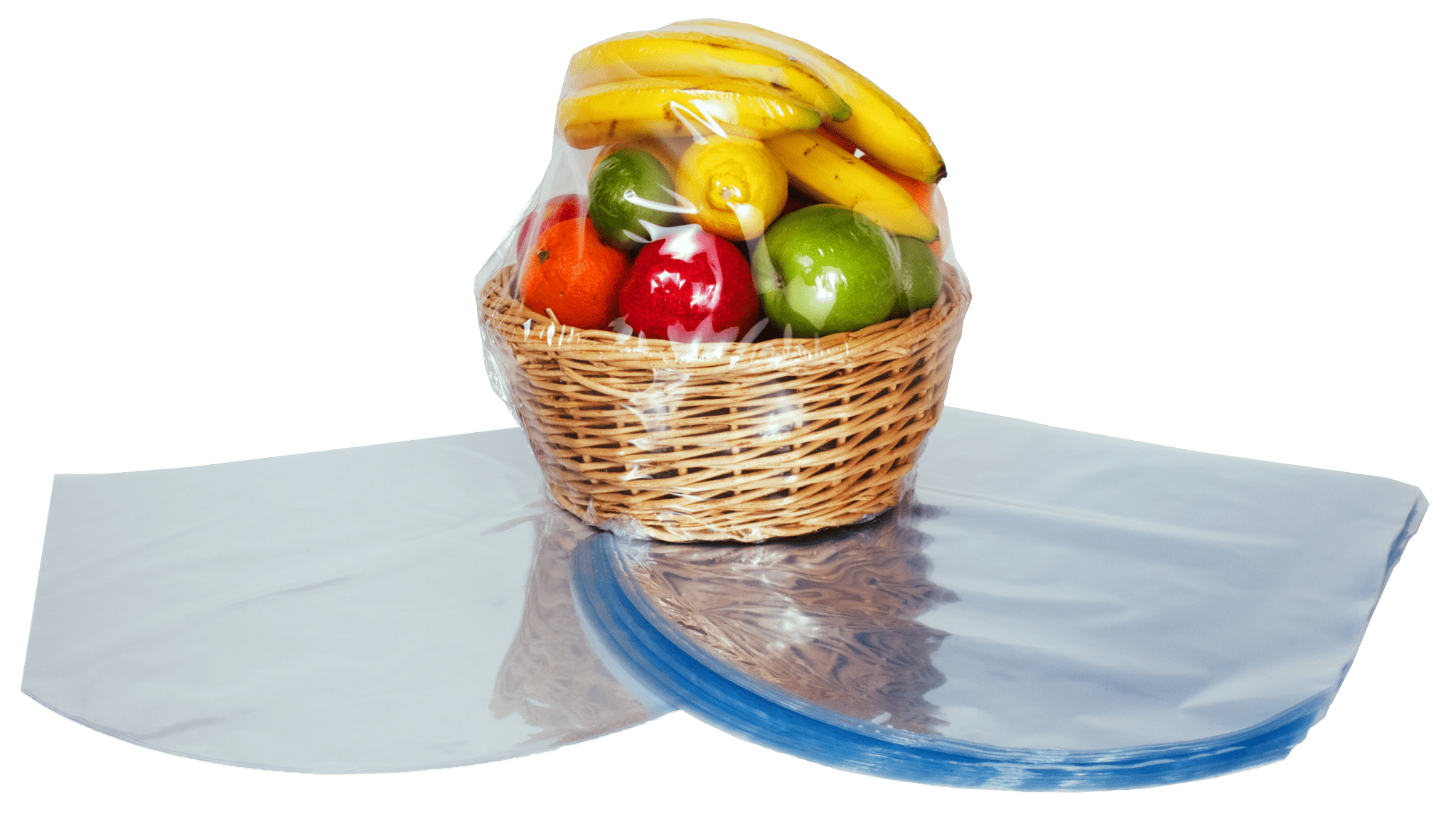 Also known as: Super Shrink bags, square bags, retail shrink bags, pvc bags, PVC bags, shrink bags, side-seam free bags, promotional bags, multipack bags, supershrinkbags.
With stock bags from Traco Packaging, you can wrap your retail products so they'll be protected and look great. Shrink wrap bags are a great way to wrap your products, such as DVDs, CDs, software, and printed material. Additionally, pull-up cello bags, polypropelene (non-shrink) bags, and plastic candy bags are bags of choice for a host of other promotional and retail products. As an industry-leading shrink wrap plastic supplier, we provide a multitude of options for your packaging needs.
Get a FREE product quote by filling out the form on our Request a Quote page or by calling 800-284-9727 today.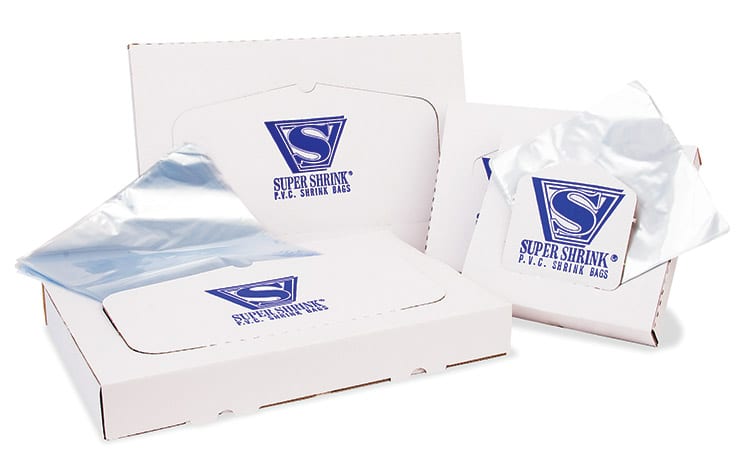 The Smart Choice for Stock Bags
When it comes to choosing packaging for your products, you want to be sure you choose a packaging company that offers quality products and unbeatable service. That's why customers have been turning to Traco for 30 years.
With Traco as your packaging supplier, you'll enjoy:
Huge inventory of products to choose from—Traco offers the largest inventory of shrink film in North America. No matter what type of stock bags you need, we have them on hand in all sizes and styles. Available sizes (inches) include: 6×6, 6×11, 7×10, 8×12, 9×14, 12×16 and other popular sizes. Our massive inventory gives you greater product selection and faster delivery of your order.
Quality products—Never settle for anything less than the best. Your products need top quality protection, and they need to be presented to your customers in a clean, professional manner. We use quality films that look great and perform even better.
Guidance from experienced professionals—Traco has been serving customers for 30 years, meeting the diverse packaging needs of a broad portfolio of clients. Our team has 200 years of combined packaging experience, helping you choose the right stock bags and packaging equipment for your products.
We strive to offer competitive prices on all of our stock bags. Contact us today for a free quote.
Get a FREE quote for your stock bags by filling out the form on our Request a Quote page or by calling 800-284-9727 today.
MORE INFORMATION (PDF pages)