Polyolefin Shrink Films For Your Business
Traco prides itself on the value of our polyolefin shrink films. We carry POF shrink films with many different unique features including: Multi-layer films for most industrial shrink film applications, Cross Linked film for stronger seals and better zipper strength, High Speed film for automatic machine applications, Soft Shrink film for packaging items with limited substrates or backing, Hot slip film for easy pack off in cartons, and Low Temperature films for heat sensitive applications or low end equipment.
Our customers can rely on our 35 years of experience and expertise to ensure exact film matches for all of your packaging applications. Our polyolefin films provide strong, clean seals, fantastic clarity, and run on any machinery from manual applications up to high speed industrial operations. Just a few of our polyolefin film products include:
Heat Shrinkable Film (center folded or single wound)
Polyolefin Shrink bags for greater strength and shelf life
Shrink Film available in 45, 50, 60, 75, 100, 125, 150 gauge
Sizes available from 8″– 40″
Ask us for special sizes and gauges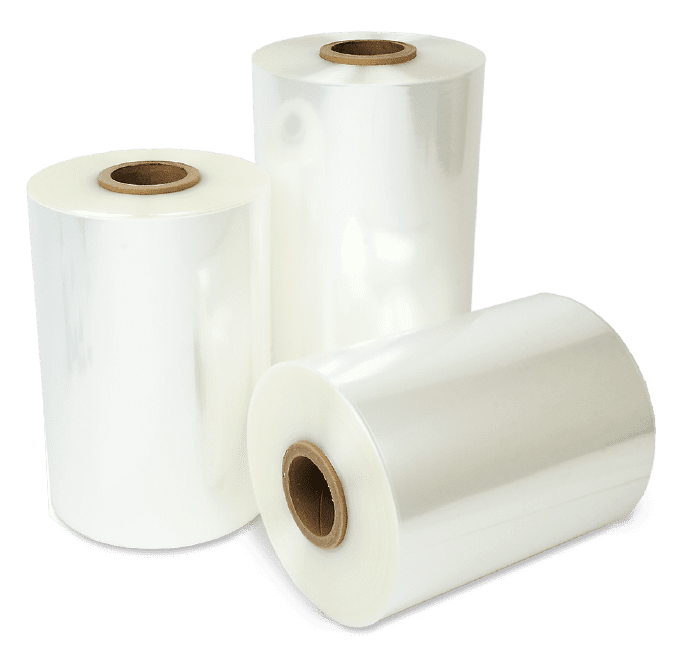 Also known as: SSPXi, supershrink polyolefin, SSP-PLUS, SSPY, puncture-resistant, shrink film, shrink wrap, polyolefin film rolls, polyolefin overwrap, high speed polyolefin.
The Polyolefin Shrink Films Solution to FDA Regulations
Polyolefin shrink films are becoming more and more popular with the advancement of "Earth/Environmentally friendly" awareness. Polyolefin shrink films provide the best optical quality making it ideal for use with products that are packaged and displayed on store shelves, and they also meet FDA regulations for direct food contact making it the top film choice of culinary institutions throughout the country.
Traco's cross linked polyolefin shrink films are competitive next generation films designed for improved strength and functionality on manual, semi-automatic, and automatic heat shrink packaging equipment.
Our shrink film experts will work with you to determine which polyolefin film is the perfect fit for your application. Just ask us for a free sample roll to test on your manual, semi-automatic or high speed equipment.
Traco's new polyolefin shrink bags are the toughest heat applied shrink bags on the market. Polyolefin shrink bags are FDA-compliant for direct food contact. We can easily meet the custom design demands of any customer. If you desire, Traco can use Polyolefin shrink tubing to make shrink bags without side seams that may detract from the overall appearance, strength, and integrity of the shrink bag. Traco's polyolefin shrink bags are easily applied by any simple heat medium and produce the clearest and toughest shrink bags in the industry.
Request a quote today to find out more about our polyolefin shrink films and polyolefin shrink bags.
MORE INFORMATION (PDF pages):