One Step TM PAC II Sealer Equipment
One Step TM PAC II Equipment
Also known as: one step shrink system, TM Pac II, all-in-one sealer, L-bar sealer
This unique "ALL-IN-ONE" L-bar sealer and shrink chamber is only 56″ in total length and features a 12″ width by 18.5″ length seal area. Featuring new "Band Seal Technology" that seals and shrinks PVC or Polyolefin Shrink Films.
110 V, 20 Amp (Optional 220V, 15 Amp)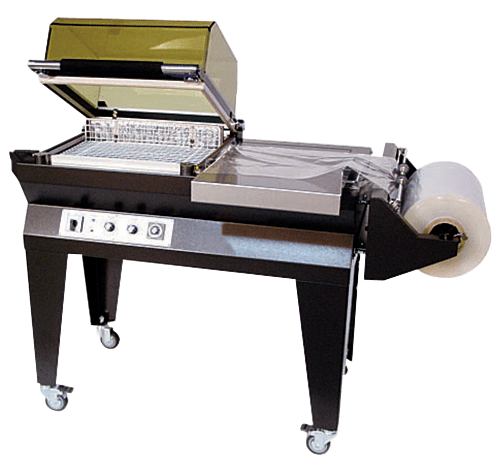 PVC or Polyolefin (Up to 20″)
50″L x 30″W x 45″H (127x76x114 cm)
Dual magnetic hold down during seal and shrink cycle.
Heavy duty plexiglass hood-fully enclosed sealing and shrinking operation for maximum operator safety.
Height-adjustable table lowers 2″ for high profile products.
fast and trouble-free tunnel processingfeatures a Teflon® coated mesh belt for Variable speed take-away conveyor.
Dual mode switch.
Adjustable grate.
MORE INFORMATION (PDF pages)