Shrink Wrap Industrial Equipment
Also known as: manual supersealer, I-bar sealer, bar sealer, shrink sealer, centerfolded shrink wrap sealer, portable shrink packaging equipment, manual sealer, hotshot heat gun.
Traco Packaging is an industry leader in shrink wrap industrial equipment and shrink film products. With offer 200 years of combined experience we provide high quality products and exceptional customer service. One of our featured products is our Portable Deluxe SuperSealer™ shrink wrap machine.
What Can Shrink Wrap Machines Do For You?
Traco's SuperSealer® is the number one selling portable shrink wrap machine worldwide. Shrink wrap machines are also knows as shrink film sealer, bar sealer, manual sealer and shrink wrap systems. The SuperSealer makes it easy to apply shrink wrap to your products.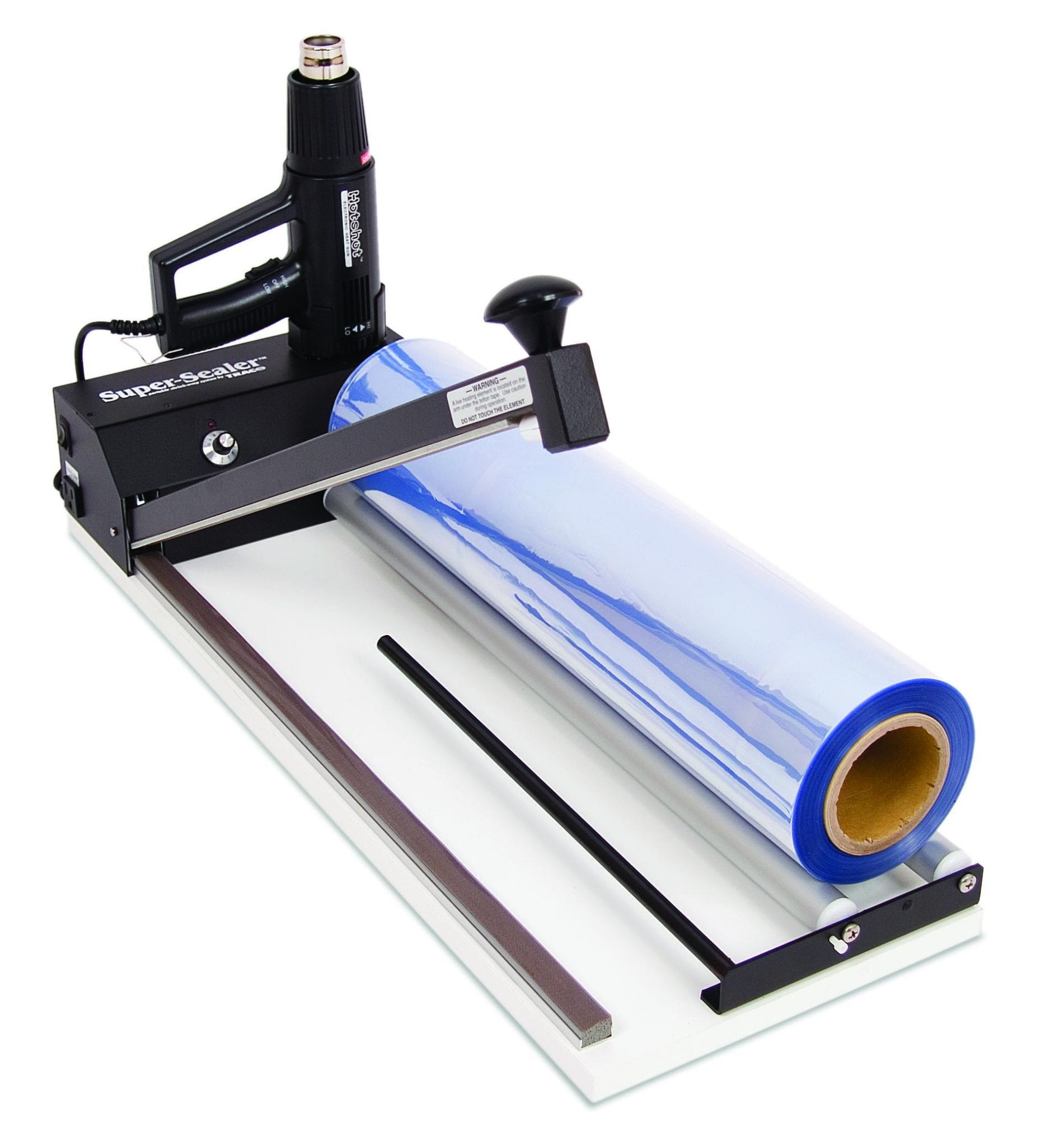 It is easy to give your products a professional quality look with a quick application of shrink film using the SuperShrink® machine. There are currently over 150,000 SuperSealers® sealers in use today worldwide. Our shrink wrap machine carries UL, ULC and CE approvals as well as an industry leading two year warranty. Just about any product can be shrink wrapped–such as:
Books – Protect book covers and pages from getting ripped and damaged by shrink wrapping them before delivery.
CD's and DVD's – Protect and cover your media discs from theft by shrink wrapping the case.
Pamphlets – Carrying and delivering pamphlets has never been easier when they are pre-wrapped for convenience.
Overwrap boxes and packaging – Protect your contents from spilling or breaking with shrink wrap.
Our portable SuperSealer® shrink wrap machine is easy to use and requires no assembly. Just plug in this manual heat sealer and you're ready to wrap. It's lightweight, sleek and is built to last. It also comes complete with the ultra-light HotShot® adjustable temperature heat gun.
Our SuperSealer® comes in two models – standard, deluxe. Our standard and deluxe SuperSealer® machines come in sizes ranging from 13 inches to 40 inches. Call us today and we will help you decide which shrink wrap machine and supplies will work best for your applications.
Thanks to our friends at Office Zone for making this video about how to use the Traco SuperSealer® I-Bar Shrink Wrapper.
MORE INFORMATION (PDF pages)
Also known as: one step shrink system, TM Pac II, all-in-one sealer, L-bar sealer
This unique "ALL-IN-ONE" L-bar sealer and shrink chamber is only 56″ in total length and features a 12″ width by 18.5″ length seal area. Featuring new "Band Seal Technology" that seals and shrinks PVC or Polyolefin Shrink Films.
110 V, 20 Amp (Optional 220V, 15 Amp)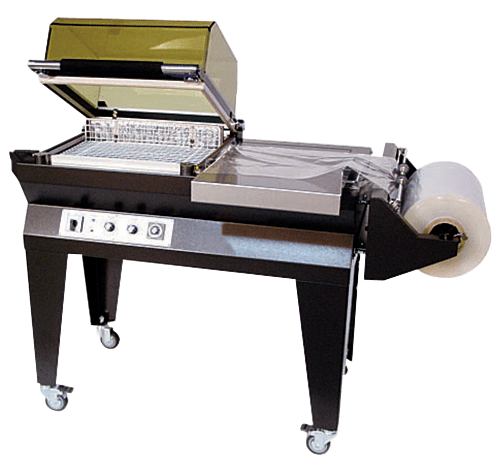 PVC or Polyolefin (Up to 20″)
50″L x 30″W x 45″H (127x76x114 cm)
Dual magnetic hold down during seal and shrink cycle.
Heavy duty plexiglass shrink hood, fully enclosed sealing and shrinking operation for maximum operator safety.
Height-adjustable table lowers 2″ for high profile products.
Fast and trouble-free tunnel processing features a Teflon® coated mesh belt for Variable speed take-away conveyor.
Dual mode switch.
Adjustable grate.
MORE INFORMATION (PDF pages)
Also known as: TM-1519, tm-1519, tm 1519, TM 1519, L-bar and tunnel, l-bar and tunnel, shrink sealer, centerfolded shrink wrap sealer, shrink wrap sealer, seal and shrink equipment, shrink wrapper, l sealer and shrink tunnel.
The TM-1519 provides easy 120-volt operation and minimal maintenance. Shrink 10 or more packages per minute in the largest, most efficient tunnel of its class.
A powerful magnetic arm hold-down ensures even pressure for perfect seals. The variable-speed conveyor with Teflon® power take-away belt and live rollers enable fast and trouble-free tunnel processing. Competitive prices for shrink wrap industrial equipment.
Details: Tunnel features 360-degree, fully re-circulating airflow, adjustable loading tray, and height-adjustable heavy-duty seal head with stainless steel film clamps. Pre-assembled console stand with L-bar sealer & conveyor comes with efficient tunnel chamber for one compact unit.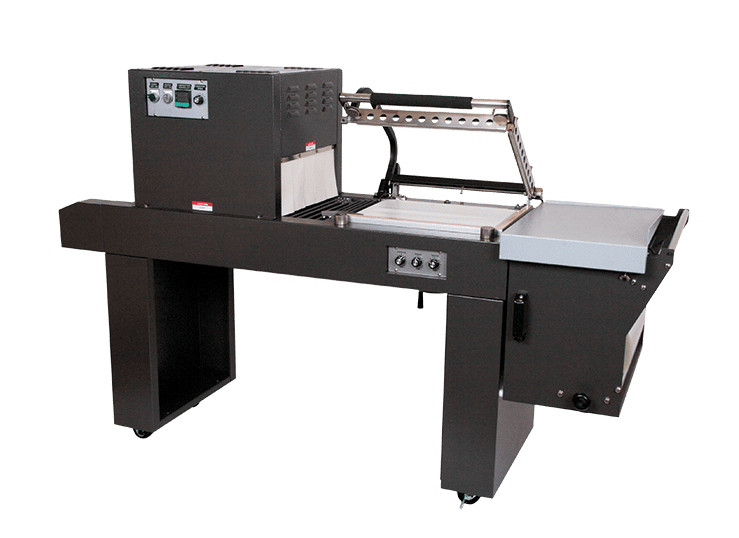 Also known as: econo bag sealer, portable bag sealer, impulse sealers, constant-heatsealer, crimp sealer, hand-held sealer, tish, thc 150, tisa, tisf, ths, impulse bag sealers.
Traco Packaging offers bag sealers in many sizes and types. Plastic bag sealers are used to seal items in bags such as CDs, books, pamphlets, calendars, or any miscellaneous products. Bag sealers are also known as: econo bag sealers, portable and tabletop bag sealers, impulse sealers, constant heat sealers, crimp sealers, hand sealers, tish, tisa, tisf, ths, and impulse bag sealers.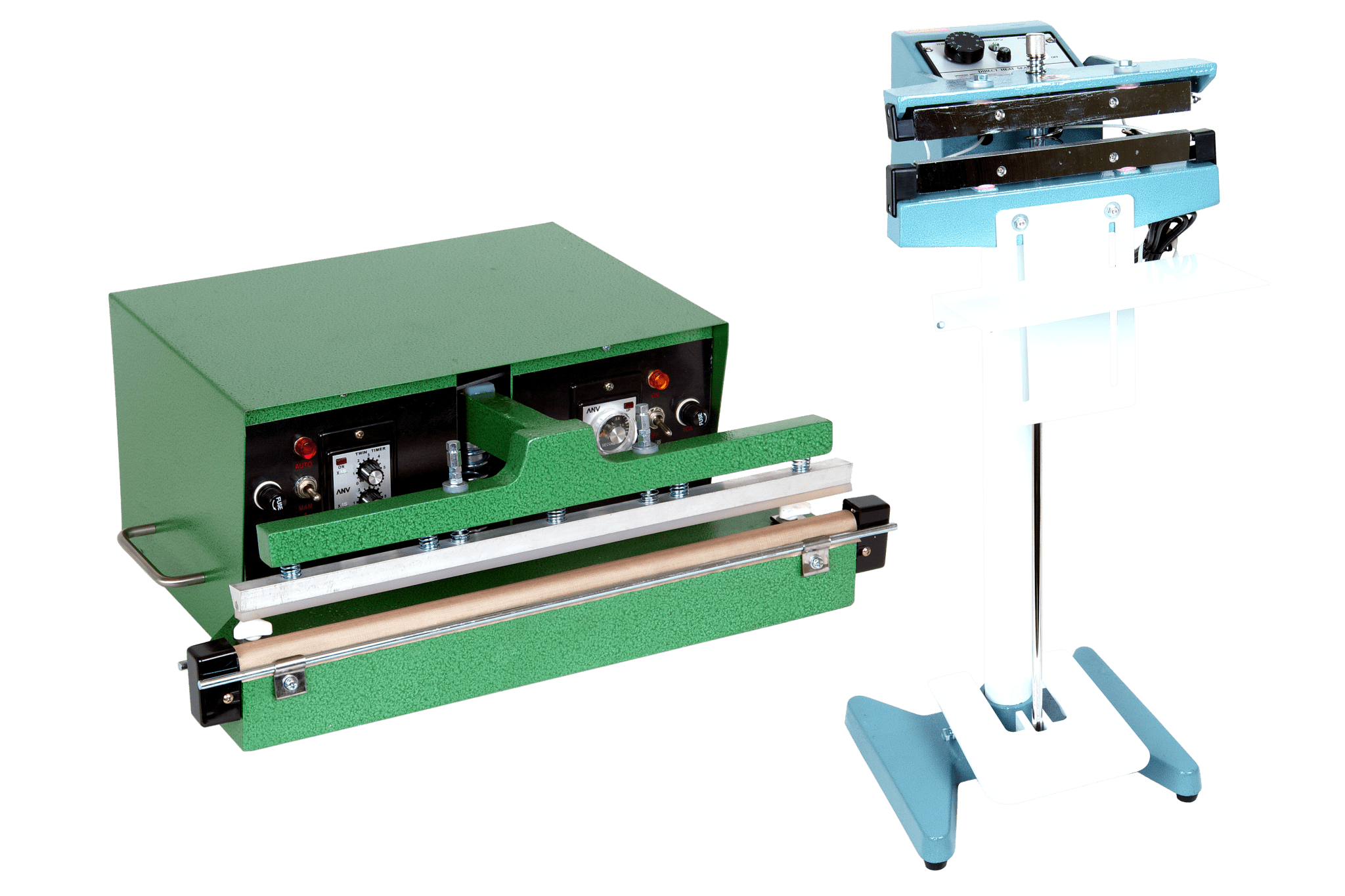 Impulse Sealers and TISH Sealer Equipment
Our TISH impulse bag sealers are popular, durable, and hand operated. They come in different models and sizes including: TISH-100/4″, 200/8″, 300/12″, 400/16″, 500/20″ all available with an optional cutter blade for removal of scrap or excess material. Our Econo Bag Systems come with a Sealer, HotShot® Heat Gun and stock shrink bags. We also carry the following:
TISF –Extra large, foot-operated bag sealer. Model/sizes: TISF-300/12″, TISF-450/18″, TISF-600/24″.
THS –Large, dual "hot jaws" foot-operated bag sealer. Model/sizes: THS-200/8″, THS-300/12″, THS-400/16″.
TISA –Extra large, table-top automatic or foot operated bag sealer. Model/sizes: TISA-450/18″, TISA-600/24″. Dial controls for automatic cycle frequency, heat seal time and pressure time settings.
THC-150 –Small hand-held crimp sealer comes in versatile 6″ size. Great for balloons, small gift bags or novelties. Hand operated with constant-heat Teflon sealing surface.
The Best Plastic Bag Sealer Equipment
With over 30 years in business and over 200 years of combined packaging experience, Traco Packaging is your best choice for product industrial bag sealer equipment. We can help you find the perfect solution for your product packaging needs.
Contact Traco Packaging today for more information on our products and sealers. Get your FREE quote by filling out the form on this page or by calling 877-358-4760 today.
MORE INFORMATION (PDF pages)
Also known as: heat sealer, heat gun, professional strength heat gun, industrial heat gun, shrink gun, hand held heat sealer.
Simple to use, this variable temperature control heat gun has the power to shrink wrap products at the speed you need.
HotShot is versatile and lightweight with new "on-off" fingertip control and hand guard for additional safety. Excellent air velocity on high or low settings. 1 year U.S.A. limited warranty, UL and ULC approved.
Options: HotShot sold separately or bundled with portable SuperSealers. Heat gun Stand-n-Store self-adhesive safety stand, available separately.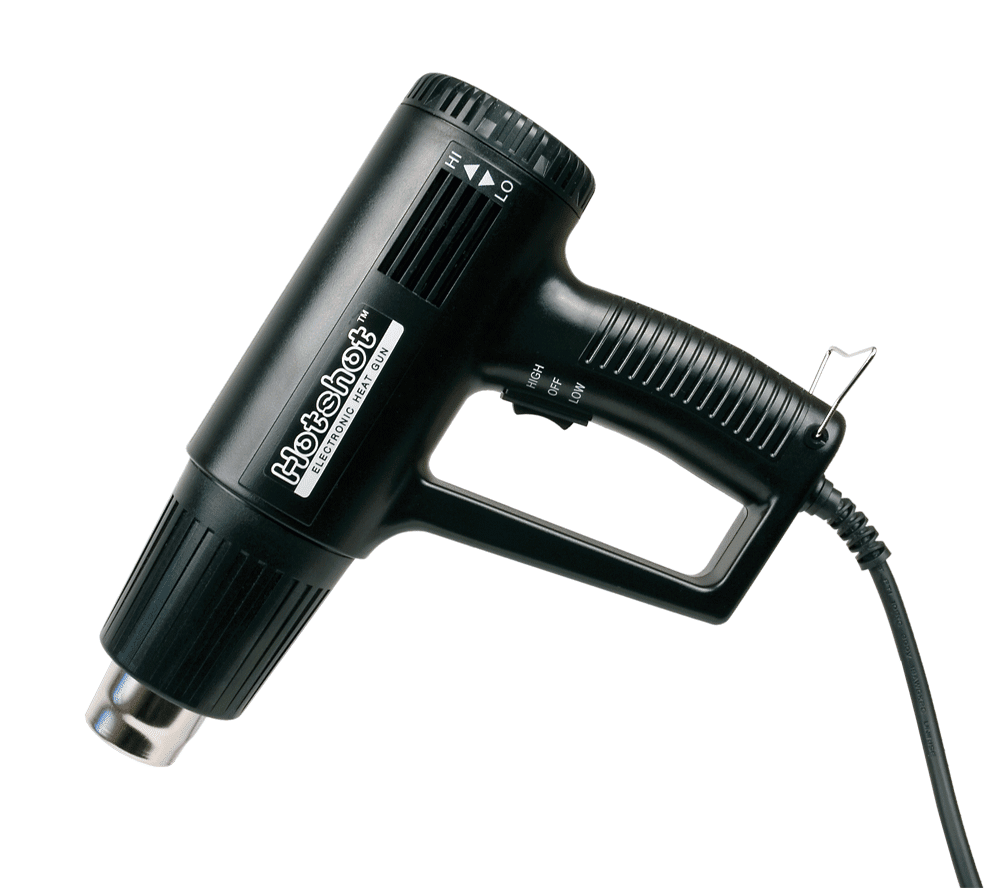 Two-speed fan.
Variable temp (0-1100 degrees).
1 year U.S.A. limited warranty, UL/ULC approved.
Self-standing.
MORE INFORMATION (PDF pages)